F.A.K.E. Popup FASHION vegan & ethically made // Los Angeles
About this Event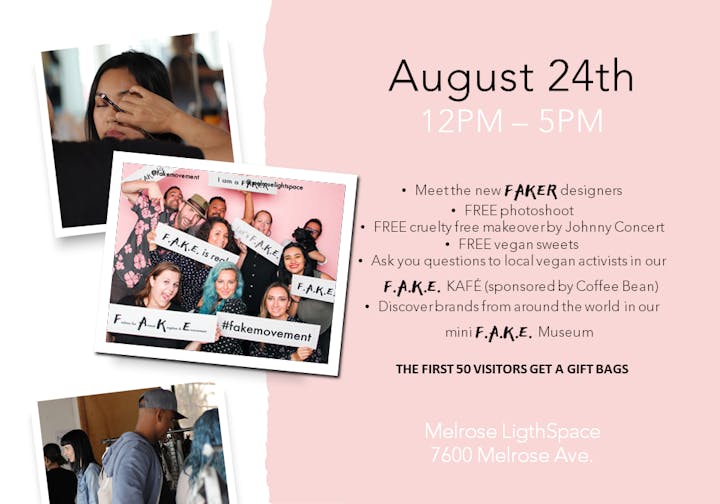 // FREE ADMISSION //
The first 50 attendees get a GiftBag!!
F.A.K.E.
Fashion for Animal Kingdom & Environment
Are you a FAKER?
A FAKER: someone who want to make a change by respecting animals, the planet and human rights!
Our first 2 F.A.K.E. popup were so successful! We had to do another one!!
Join us on August 24th from 12pm to 5pm at Melrose LightSpace (7600 Melrose Ave. // Los Angeles):
Meet the new FAKER Designers
Get a FREE professional Photo shoot
Get a FREE vegan makeover (by Johnny Concert)
Discover cruelty free & ethical Fashion
Chill in our F.A.K.E. KAFÉ (sponsored by Coffee Bean)
Get FREE vegan sweets
Ask all your questions to local activists
Discover brands from around the world in our "F.A.K.E. museum"
All this in just one day in the middle of Los Angeles!
For more information visit our website www.fakemovement.com
And/or instagram @fakemovement
WHY?
Today, thousands of animals will be killed for leather, wool, silk, fur… All in the name of Fashion.
It has a huge impact on the environment as well, bigger than all the international flights and maritime traffic combined. Check our F.A.K.E. news page "impact of fashion" for more informations.
It is our responsibility to change our way of consuming. But let's be honest, it's not very easy to find nice cruelty-free & fare trade clothes and accessories..
This is why F.A.K.E. movement give you options and help you to make that change!
HOW?
We select designers that offer vegan, ethical & sustainable options and create events to promote them!
It's simple as 1 + 1 = 2.
The more FAKER we are, the more designers would want to create ethical fashion :)
WHO?
Many designers can be "FAKER" Designers.
We have one condition: having cruelty-free Fashion ethically made.
Check our F.A.K.E. news page "how to be a FAKER" to learn more about it.