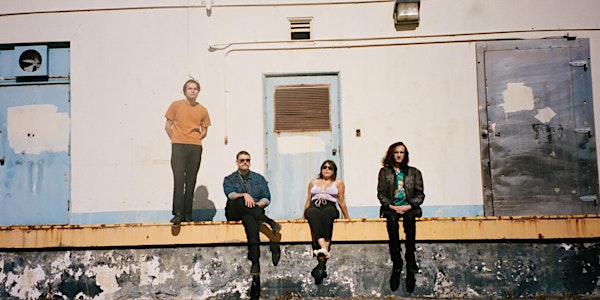 Fake Fruit, Flasher
ALL AGES
Noise Pop 30 & Throwin' Bo's Present
Fake Fruit, Flasher at Rickshaw Stop
When and where
Location
Rickshaw Stop 155 Fell St San Francisco, CA 94102
About this event
Noise Pop 30 & Throwin' Bo's Present:
Fake Fruit, Flasher
TBA Support
7:00 PM Doors / 7:30 PM Show
$15 Advance / $17 Day of Show
All Ages
About Fake Fruit:
In 2013, 18 year old musician/songwriter Hannah D'Amato fled her Southern California suburban home. Disillusioned by the ubiquitous garage and psych rock casualties that polluted her local music scene and a healthy teenage desire to flee the nest, D'Amato set her sights on New York City. After several months of just scraping by and spending most of her time down in her Brooklyn basement practice space, D'Amato applied to the Berklee School of Music in Boston. In the middle of her audition, a member of the all white male panel silently approached and turned the volume down on her guitar amplifier. D'Amato left the audition and vowed to never return to the campus again.
Weeks later, she declined her acceptance into Berklee and doubled down on her commitment to forming her own group. Working as a nanny, D'Amato soaked in everything New York had to offer, playing in bands, developing a session side hustle, and forming the first incarnation of Fake Fruit. Rambling on to Vancouver B.C. in 2017 she found herself immersed in a fevered state of hypergraphia, writing several songs a day. The second iteration of Fake Fruit was born, now a trio, the Vancouver lineup was instrumental in helping to build the framework around her songs. After dozens of shows and some false starts at making a record, D'Amato, seemingly adverse to any sense of comfort, found herself again pining for change.
After moving to the Bay Area, she found herself at a spaghetti party (don't ask) where she struck up a conversation with guitarist Alex Post, an Arthur Russel obsessive who made elaborate ethereal guitar instrumentals. A few weeks later, a chance encounter upon arrival at a New Year's Eve party led drummer Miles MacDiarmid to open the door for D'Amato. Remembering the description she had been given of him when asking around about drummers (very tall, with a dangly earring and dark brown, Ian McCulloch-esque hair) she greeted him laughing "I know this is weird to say, but I think you're supposed to be in my band". The three hit it off immediately and became the third and current incarnation of Fake Fruit. Supported by a revolving cast of bass players akin to Spinal Tap drummers, Martin Miller contributed bass duties to the record, Trey Flannigan of Pardoner joined in from time to time as well as Dylan Allard of Freak No Hitter.
With renewed vigor, Fake Fruit joined recording engineer Andrew Oswald to collaborate on what would become their self-titled debut. D'Amato's journey is detailed by her range of vocal affectations; acidic and confrontational, withdrawn and unamused, sweet and sorrowful. The arrangements bounce and sway with Post's chorused guitar jabs, Miller's rolling bass lines, and MacDiarmid's relentlessly energetic drumming.
Against all odds, Fake Fruit's self-titled debut was released 3/5/2021, on Sonny Smith's Rocks in Your Head Records. Despite the global pandemic's impact on live music, Fake Fruit have still managed to turn heads, earning accolades from the likes of Bandcamp, Brooklyn Vegan, Post-Trash, and more.
About Flasher:
The band's 2018 debut, Constant Image, was a triumph – a set of songs both dizzy and explosive, balancing new-wave lushness and post-punk frenzy. Love is Yours steps up the ambition and reaches for the horizon. The record is ablaze with mood, melody, and carefully threaded hooks, finding the band foregrounding the pop sensibilities that had always been present in their previous releases. It retains the attitude that was fundamental to the band's DIY roots, but cuts loose a touch of the angst. Though the songs process disillusionment and loss, the music evokes warmth and optimism. It is their best record and also their most generous.
The album was written and recorded amid a moment of flux for the band. Now a duo, guitarist Taylor Mulitz and drummer Emma Baker had to reimagine Flasher's voice. They embraced uncertainty and allowed their roles to become unfixed. They wrote collaboratively and followed their intuition. Instruments were swapped, harmonies were layered over samples, and a space was created for Baker to step out from behind the drumkit into a front person, sharing vocals alongside Mulitz. On the other end Flasher emerged familiar, but also stronger and more singular.
Formed in 2015, Flasher was born out of Washington, D.C.'s newly resurgent underground music scene. In that context, the trio stood out. They were urgent and wiry, but could also convey a cool and authentic tenderness. A year later, when the city was leaden with post-election gloom, Flasher could remind you – however fleetingly – that pleasure was still a possibility. They released an EP and a 7" single on Sister Polygon Records before joining Domino for Constant Image. The record was critically adored and ceaselessly toured. When the D.C. trio finally took a breath nearly two years later it was at an unmistakable high point. Flasher had hit the road alongside its heroes, scored spots on festival bills, and packed hometown shows.
Not long after that, as the band prepared to hunker down and begin writing their follow up, D.C.'s tight-knit community began to splinter and realign. Bands broke up. People got older, became restless, and moved on. Flasher was not spared a shake-up. Bassist Daniel Saperstein parted ways with the group. Mulitz would eventually decide to relocate – first to Baltimore and then to Los Angeles, making the group bi-coastal.
Working as a duo took a bit of recalibration. The songwriting process changed dramatically, but in a way that quickly began to feel energising. "Once we had this implosion, we let go of the pretence and confines that we had pigeonholed ourselves into," says Mulitz. "Going into this record, the vision was pretty simple: We wanted to write songs that came intuitively. We were leaning into that while consciously creating a real space of trust and openness."
The bulk of Love is Yours was recorded in Washington, D.C. with long-time friend Owen Wuerker, who also helped flesh out the instrumentation by contributing additional bass, percussion, synths, and guitar. Rather than binding the duo to its past – to geography, old habits, or trusted sounds – the familiar environment proved liberating. Working out of Wuerker's well appointed home-studio allowed inspiration to arrive off deadline. With no shows in sight, Flasher could relax on presenting as a "rock" band. Baker and Mulitz tweaked tempos, structures, and dynamics accordingly. They toyed with genre, melody, and texture. From the first dubbed out drum hits of opener "I Saw You" to the swirling trip hop outro of the closing track "Tangerine", Love Is Yours is an exhilarating joy-ride that is at turns dreamily introspective and elegantly pop-leaning.
The Baker-lead "Little Things" is indicative of the former. Rhythmically driving but melodically hushed, it slips seamlessly from its final chorus into a woozy head-rush outro. Inspired by a bout of vertigo, the song registers as eerily universal – the lyric "I'm spinning out at home" unintentionally channelling the strangeness and disorientation of the last two years.
The title track is Flasher at its most widescreen. Structurally, it mirrors the roller-coaster dips of a long-term romance, with a taught bassline guiding the melancholy-tinged verse toward syncopated and swoony lift off. The song illuminates one of the album's most affecting through-lines: Navigating the tricky shift from a younger outlook on relationships to the tougher ascent of an enduring partnership, whether creative or romantic.
Freedom is another major thread. "Sideways" evokes the liminal stillness-in-motion feeling of a long-distance drive – attentive but adrift, relaxed but reflective – with a laid back groove that is at once motorik trance and fluid boogie. "I'm Better" is more explicit and also more playful, revelling in guilt-free trash-talk, "bye-bitch!" energies, and the bliss of feeling a toxic relationship recede into the rearview. Album opener "I Saw You" uses a wave of guitar feedback and sampled boombox gristle to pivot from melancholy into a vibrant and fully unburdened dream-pop chorus.
When it was first completed, Mulitz was shy about sharing the album, worrying that old friends would find the new sounds unrecognisable. Love is Yours is unquestionably made up of Flasher's DNA, but it's true that something pivotal has shifted. If Constant Image found the band tightening up and transcending its basement-punk roots, Love is Yours marks another, major moment of ascent, this time toward something that's easy to embrace, but harder to pin down – still thrilling, but newly illuminated and entirely their own.