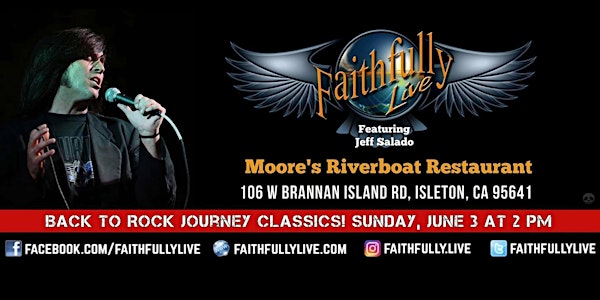 FAITHFULLY LIVE at Moore's Riverboat Restaurant
When and where
Location
Moore's Riverboat Restaurant 106 West Brannan Island Road Isleton, CA 95641
Description
If you love the 80's Classic rock, you will love this upclose and personal experience with Faithfully Live. You can't help but become a huge fan. Their musical catalog takes you from 1978 through 1986, performing all the top hits.
Faithfully Live is comprised of five professional musicians who have come together to pay tribute to Journey and deliver songs such as Wheel in the Sky, Just the Same Way, Don't Stop Believin, Faithfully, and more. Faithfully Live delivers these songs in such a fashion that keeps the audience wanting more. The energy, appearance and stage presence has elevated to a whole new level.
Faithfully Live is currently entertaining audiences all over the U.S. providing an electrifying live show. Wherever they play, they leave a lasting impression.

They continue to bulid their fan base with over 76K fans on instagram and over 14,000 followers on facebook. Join us for an afternoon lunch followed by the show starting at 3:00PM.
Promo Video: https://www.youtube.com/watch?v=I1OmScU6_c0&feature=youtu.be
MORE INFO:
Moore's Riverboat Restaurant - Check out the restaurant menu online Web: http://www.mooresriverboatbar.com Facebook: https://www.facebook.com/mooresriverboat/
Web: http://faithfullylive.com
Facebook: http://www.facebook.com/FaithfullyLive
Twitter: @FaithfullyLive
Instagram: @faithfully.live (Jeff) | @faithfully.live.pam (Panda)
Booked by:
Reese Entertainment Web: https://www.reeseentertainment.org Facebook: https://www.facebook.com/ReeseEntertainment Instagram: @reeseentertainment CALL or TEXT OK: 209-585-7447