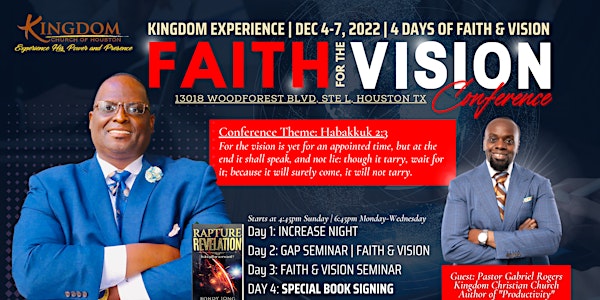 Faith for the Vision Conference 2022
There is still time on the clock to finish out the year strong. Come and get a refreshing on God's vision for your life.
When and where
Location
The Kingdom Church of Houston 13018 Woodforest Boulevard #ste L Houston, TX 77015
About this event
There is no time like the present to walk into God's vision for your life!
Get ready to put wheels to your vision at the Faith for the Vision Conference 2022. Come expecting increase on the first night, a GAP College Student Seminar, a Faith and Vision Conference, and a special Rapture Revelation book signing by author, Pastor Rondy Long. We will have special guest, Pastor, and author of the book Productivity, Dr Gabriel Rogers, in the building to usher in the occasion. Join us before the start of the event for a special pre-conference prayer by the amazing Lady Regina Long. You don't want to miss this event from Sunday, Dec 4th to Wed Dec 7 starting at 5pm.
Day 1: INCREASE NIGHT AND CONFERENCE (5PM)
Day 2: GAP COLLEGE SEMINAR (6PM) | FAITH & VISION CONFERENCE (7PM)
Day 3: FAITH & VISION SEMINAR (7PM)
Day 4: SPECIAL "RAPTURE REVELATION" BOOK SIGNING (7PM)
Location: 13018 Woodforest Blvd, Ste L, Houston TX 77015
For more details, go to www.KingdomChurchHouston.com. If you are in the area, come and visit us every Sunday at 8am or 10am and on Wednesdays at 7pm for Bible Study!