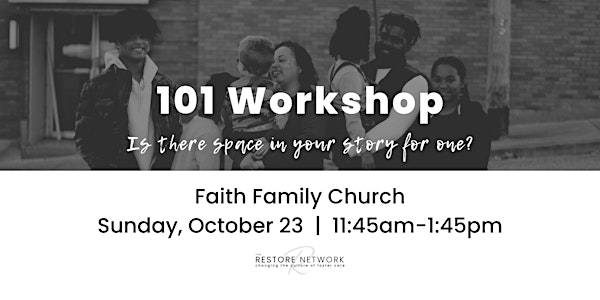 Faith Family Church 101 Workshop
Join together with other families from Faith Family as you explore how God is leading you to respond to the foster care crisis.
When and where
Location
Faith Family Church 704 North Green Mount Road Belleville, IL 62221
About this event
You could never be a foster parent. Could you?
At The Restore Network, we understand the constant back and forth in your mind about wanting to care for a vulnerable child in the foster care system.. but wondering if you're actually cut out for it.
We understand because, as The Restore Network's leadership team, we've stood precisely where you are. Then, we each held our breath, relied on our faith, and opened our homes to children who needed us. Now, as we're collectively parenting 64 children in 12 homes, we've never looked back.
Truth is - there's no promise that fostering a child is easy. But, we exist to honor a family's courageous decision to say "yes."
As a Restore Network foster family, you will be:
1. Expertly Equipped. As a Restore family, you get more than training. You get extensive trauma-based training taught by a Trust-Based Relational Intervention practitioner who, beyond having a Master's degree in Social Work, specializes in helping families understand and implement interventions that help bring true healing to kids coming out of traumatic experiences.
2. Carefully Connected. Since placing a child in the right family is more than finding an empty bed, we'll spend time getting to know your family to identify the type of child who will most thrive in your home. We'll then coach you on what factors to consider so you can give your best "yes" when a placement is recommended.
3. Constantly Supported. Fostering a child comes with uncomfortable uncertainty, so we connect foster families with the support they need to reduce the stress. This means that when a child is placed, we'll start by providing clothes, supplies and meals to meet immediate needs and remain in regular contact to offer a safe place to talk, training, advocacy and respite care. We also introduce you to a community of foster families who will walk with you in your journey.
So, let us help you explore the sometimes complicated calling of becoming a foster parent. Register for your church's 101 Workshop.