Description
Thank you for your interest in TN Faith Based Recovery network. If you have never been, join us! Learn about the disease of addiction and about addiction treatment and recovery in the region. Learn how you and your church and organization can support individuals struggling with addiction and their family. If you have been to a meeting previously we invite you to come back. Some content may be similar to previous meetings, however we continue to infuse new content and topics so you can continue to learn about community and faith based treatment and recovery resources. This will be the 5th regional meeting we have held in Northeast Tennessee. The best part of this network is the opportunity to learn along side other faith based organizations and churches. If you have already become a certified faith based recovery church or organization, we invite you to come back and be an example and share the good work that is happening in the region.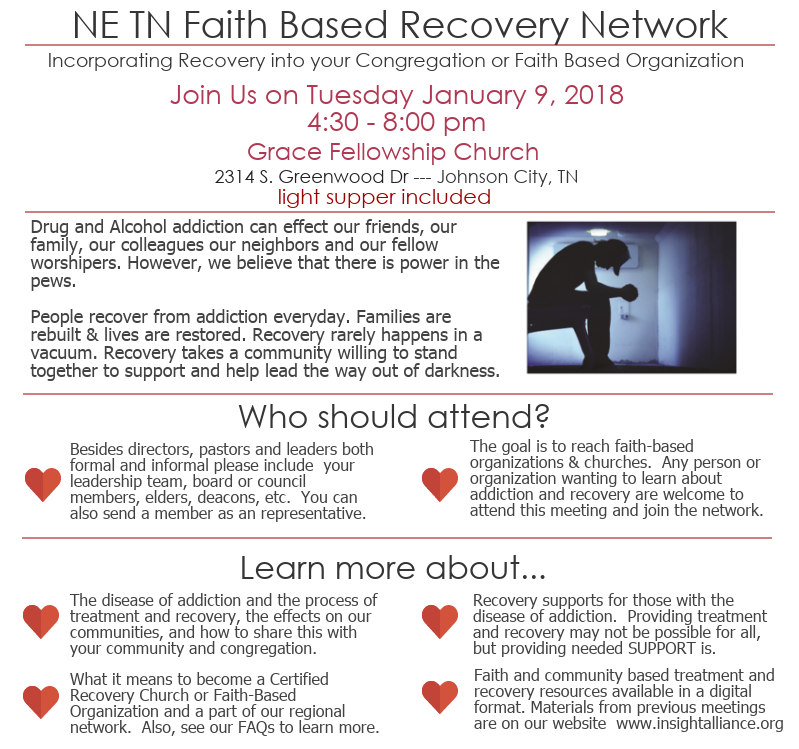 Frequently Asked Questions
What does becoming a Certified Recovery Church or Faith-Based organization mean?
As a member, you will receive information, training & resources. Most importantly, you will be linked to other churches and faith-based organizations who are already reaching out in many ways. Learning from each other, you can find what will work best for your congregation. Also this means you will join our regional Faith Based Network which will continue to meet quarterly for further access to education and resources while we continue to build the network.
What if we already have a recovery ministry or talk about recovery at our church or faith-based organization?
THANK YOU! We still need you. To create a recovery network that includes churches & faith based organizations, we need examples of the great work that is already being done in the region so others might learn from your example. Your ministry might provide additional outreach to smaller churches without the capacity to provide what you have. Additionally there may be resources in your community that you might not be aware of. Come learn!
Does this mean we have to start a recovery ministry & host recovery meetings?
NO! At the very least we hope you will better understand addiction and to learn that treatment works and recovery is possible. We hope you will also be willing to talk about it: in staff meetings, from the pulpit, or maybe during a Sunday School class or when someone on staff or in your congregation needs support. Becoming a Certified Recovery Church OR Faith-Based Organization means at the very least you are willing to better understand addiction and recovery, and have the ability to provide information about treatment and recovery meetings to individuals who may be struggling with addiction.
However if you want to host meetings OR start a recovery ministry at your location you will now have access to information and others who are doing it to help.
What if my church leadership doesn't have time to attend? What if my church is too small?
They can send an ambassador. Anyone in the church can have the knowledge and start the conversation. It could be YOU. All you need is an interest in learning more. And this does not have to take up a lot of time. Churches often support and comfort people who are hurting, this training will give people additional tools to help provide that support.
Questions about Faith Based efforts in the state?
Monty Burks, Dir. of Faith Based Initiatives 615-770-1783
Questions about addiction and recovery?
Jason Abernathy, Lifeline Recovery Coord. 877-366-7593 - ext 105
Questions about the upcoming event?
Carter County Drug Prevention Jillian Reece 423-297-1335

OR Insight Alliance 877-366-7593