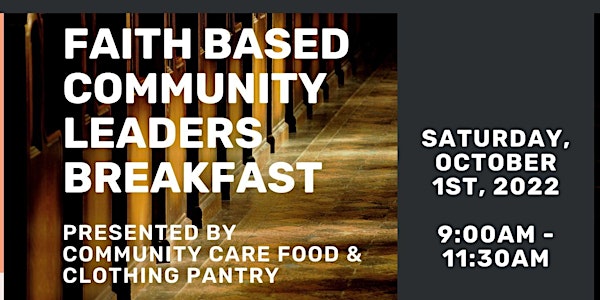 Faith Based Community Leaders Breakfast Hosted By Mayor Marie Lawrence
Please join us for this ground breaking networking breakfast w/ Faith Based Leaders in & around Winslow Twp, NJ Hosted by Mayor M. Lawrence.
When and where
Location
Winslow Township Seniors Building 33 Cooper Folly Road Winslow Township, NJ 08004
About this event
Community Care Food and Clothing Pantry is a non-profit organization whos mission is help eliminate hunger in Winslow Township and the surrounding area. We are reaching out to all faith based leaders in the area to meet the Mayor of Winslow Township, Marie Lawrence with the goal in mind to meet and greet with fellow leaders, encourage partnerships, jumpstart interfaith events to more multi-church/spiritual centers, and to elevate the voices of our spiritual leaders.
Mayor Marie Lawrence is hosting this new initiative leading the conversation with efforts to combine spiritual events for the entire community, build on the creation of an information pipeline for sharing of ideas and concerns, and develop a pipeline for solution based strategies that address the community as a whole.
Community Care Food & Clothing Pantry is motivated to expand the network of community support and collaboration with fellow spiritual leaders that are the heartbeat of the community and to build a coalition of Faith Based Leaders and township committee members. We also are interested in providing detail information about how our organization can work with leaders to provide resources available right here in Winslow Township. Creation of a Faith Based Leader Network is the recipe to elevate the needs of residents, followers of faith based programs and centers, and bringing together elected officials with the community at-large. We are serious about the prevention of food deserts for the Township of Winslow and the surrounding areas.
WHO'S INVITED: Faith Based Leaders (and appointees)in the Township of Winslow and surrounding areas that have a direct interest in Winslow Township.
WHAT IS THE COST: This first event is sponsored by the Community Care Food & Clothing Pantry at no cost to attendees.
WHAT IS INCLUDED: Please join us for this networking breakfast that will have a host of take-aways, a full catered breakfast, and added to an exclusive action network with the Mayor of the Township of Winslow.
WHAT SHOULD I EXPECT AS AN ATTENDEE: Please bring a listening ear, list of challenges that your organization may be experiencing where the township could be of assistance, food insecure challenges of your followers, hear from fellow leaders, and an exchange of ideas.
LOCATION: Winslow Township Seniors Building - 33 Cooper Folly Road, Atco, NJ
TIME: Doors open at 9:00am - Breakfast Is Served at 9:30am - Program starts promptly at 10:00am.