Faith and Practice: A Bay Area Gathering for Christians in Healthcare
Description
FAITH & PRACTICE: A BAY AREA GATHERING FOR CHRISTIANS IN HEALTHCARE
Are you a Christian in healthcare who longs to experience your profession as a calling?
Has the depersonalization of modern medicine diminished your sense of fulfillment?
Do you want to work with fellow Christians to integrate faith and practice more fully?
If so, join us September 24, 2016 for a Bay Area regional event.
Faith & Practice aims to help Christian practitioners pursue their vocations with clarity, faith, and joy. It is open to professionals working across the healthcare spectrum, including patient care, administration, services, and medical technology development.
The discussion will focus on day-to-day practices applicable to all Christians in healthcare:
What does our shared Christian tradition teach us about re-engaging the contemporary practices of healthcare?

How can each of us enhance and sustain clarity and joy in the daily pursuit of our vocations?
What to Expect:
Discussion of the common challenges of integrating work and faith
Discovery of currently available resources and tools
Sharing of successful practices for individuals and small groups
Proposals for ongoing discussion forums and potential pilot initiatives
Lunch will be provided
Faith & Practice will directly follow the TBC Large Group Gathering. See http://www.tbc.city/ for more information.
This regional event has been inspired and supported by Duke Divinity School's Initiative on Theology, Medicine, and Culture. To learn more about their innovative work, see https://tmc.divinity.duke.edu/
Below is how the registered practitioners have been answering our preparation questions.
As a Christian, what is most frustrating about your day-to-day work in healthcare? What breaks your heart?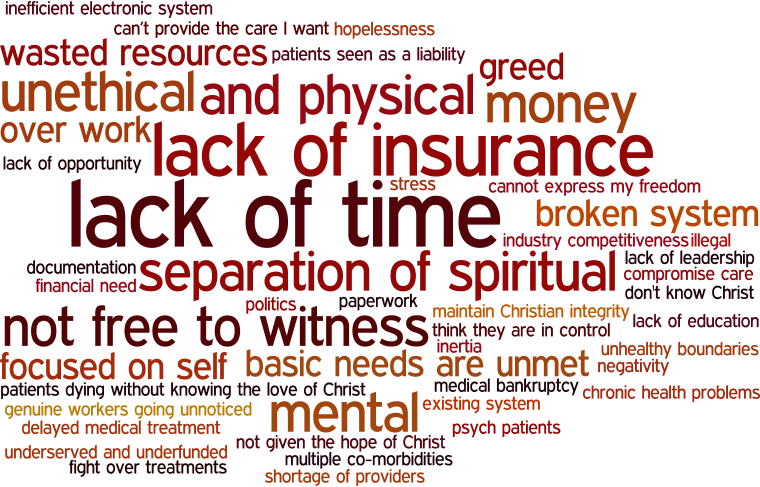 Conversely, what helps you to rejuvenate clarity and joy in your work?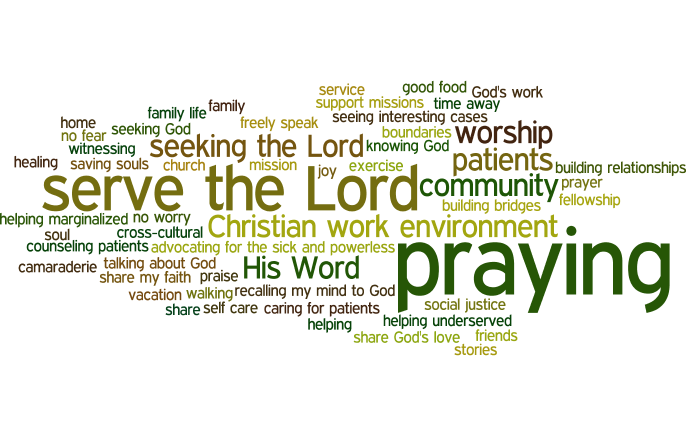 By the end of the event on the 24th, what outcome do you most hope that we achieve?