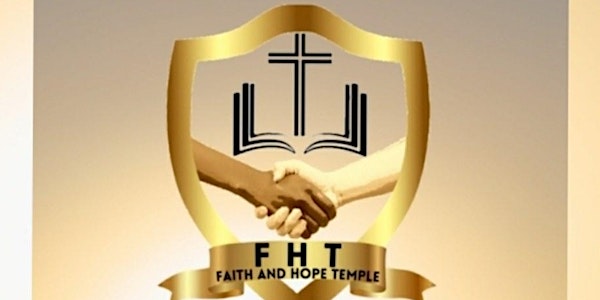 Faith and Hope Temple Virtual Training Institute 2023
Faith and Hope Virtual Training 2023 will be in session in February 2023
About this event
Homiletics Training: February 2, 9, 16.
By the end of this course, you will have studied techniques on:
How to choose a text,
Reading of the text,
Historical background of the text,
Application of the text and,
Celebration of the text.
This course is recommended to those who want a better understanding of sermon preparation, but it is not mandatory.
Instructor--Bishop Dr. Herman Crockett Jr., M. Div., D.Min (h.c.); Pastor, Faith and Hope Temple COGIC; President, Training Institute
Assistant Instructor/Facilitator--Elder Annorie Lee, M.Div.; Vice Chair, Faith and Hope Temple COGIC Ministerial Staff; presently studying to become a College Professor of Christian Education.
Church School Training: February 7, 14, 21.
By the end of this class you will have learned different teaching styles and techniques that can be beneficial to the teacher and students. You will also be provided resources to help enhance your leadership and teaching skills, thereby encouraging more growth.
Instructor --Dr. Walter Gary, D.Th.; M.A., Christian Ed.; Assistant Pastor, Faith and Hope Temple COGIC; Military REtiree; Military Instructor's Certificate of Completion; National Adjutant, COGIC
Facilitator--Elderess Joyce Stalling, Chairlady, Faith and Hope Temple COGIG Ministerial Board; Attended Barton Community College in Junction City, Kansas, and Beta Tech in Midlothian, VA; currently pursuing an A.A. in Biblical Studies from Living Water Bible Institute
The Attributes of God: February 7, 14, 21.
By the end of this class, you will have a better understanding of the character, nature and attributes of God. This class is designed for anyone who wishes to learn more about who God is.
Instructor--Elder Dwight Pullin, B.A., Biblical Literature; M.A. Biblical Studies; Former Member and Vice Chair, 2nd Jurisdiction NY Ordination Board; Church School Teacher, Men's Class
Facilitator--Ms. Lora Jarrett, B.S., Business Administration; Magna Cum Laude graduate; Sigma Beta Delta Honor Society member; A.S., Secretarial Science from Thomas Nelson Community College; Completed a college-level New Testament course and aims to continue her path of Christian Studies; experienced youth and young adult Sunday School teacher
Sessions Requirements:
 All classes are available to anyone who may be interested. The grading system and scale will be at the discretion of the instructor. There will be no graduation ceremony, but students who attend two or more sessions will receive a certificate of completion. Certificates will be mailed to students out of town. Local students may pick up their certificates from the church on a date to be designated at a later date.
Fee:
 There is no charge for courses, however, students are encouraged to give generously as we depend upon their donations to support the Training Institute.
Ways to Donate:
Cash App: $faithandhopetemple
Church's website: faithandhopetemple.org by credit card, debit card, or Paypal
Givelify: search Faith and Hope Temple COGIC
Mail: use the above address
Dropping off: use the above address, call beforehand, using the phone number (804)861-3898.
NOTE:
ONGOING TRAINING MAY BE OFFERED PERIODOCIALLY DURING THE YEAR ON VARIOUS TOPICS.