About this Event
The conference will include participation of members of the European Parliament, of the OSCE Office for Democratic Institutions and Human Rights (OSCE), of the European Commission, as well as several human rights activists and scholars from civil society. It will be followed-up by an open discussion on the topic of the necessity to reinforce the existing mechanisms protecting freedom of religion or belief in the European Union. If we want to have a legitimate influence outside of EU in the field of freedom of religion or belief, we must be beyond reproach within our borders.
The Faith and Freedom Summit is not an organization. It's a campaign proposed and run by a large coalition of faith-based and non faith-based NGOs and supported by many EU stakeholders.
The Summit launched a pledge that all MEP candidates are asked to sign, that reads as following: "I pledge that I will uphold and defend the freedom of conscience and religion of all individuals by rejecting and speaking out against bigotry, discrimination, harassment and violence; and so build a more equitable society for all." The signature of the pledge is inter alia supported by Mr Ahmed Shaheed, current UN Special Rapporteur for Freedom of Religion or Belief.
We strongly believe that EU citizens must enjoy a real freedom of religion or belief, at every level, and that this fundamental right is not given the importance it deserves in the EU institutions, and in the EU instruments to protect the various freedoms of EU citizens. That is what we will discuss on April 2, with you.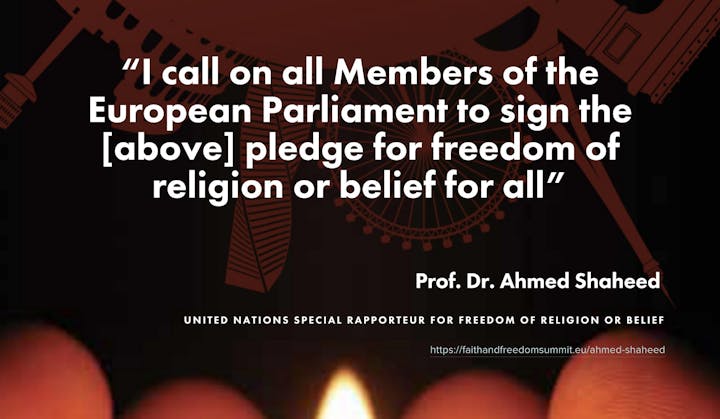 DRAFT AGENDA
• 9h30 Welcome coffee and tea
• 10h Welcome address
*Laurentiu Rebega MEP
• 10h10 Introductory remarks
*Jan Figel - EU Special Envoy for Religious Freedom
*Martin Weightman - Director – All Faiths Network
*Willy Fautre - Director - Human Rights Without Frontiers International
*Bashy Quraichy - Secretary General - EMISCO
*Kristina Arriaga de Bucholz - President - Oxford Society of Law and Religion
*Hans Noot - President - Gerard Noot Foundation
*Eric Roux - Vice-President – European Affairs Office of the Church of Scientology for Public Affairs and Human Rights
*Ms. Ines Mazarrasa - Director of the Spain Ministry of Justice Foundation Pluralism and Coexistence
*Kishan Manocha - Senior Advisor on Freedom of Religion and Belief, Human Rights Department, OSCE/ODIHR
*Marco Ventura - Full professor with tenure at the Department of Law of the University of Siena
*Greg Mitchell - Co-chair – International Religious Freedom Roundtable
• 11h30 KEYNOTE SPEECH
*Jan Zahradil - President of ACRE
• 11h40 General discussion with the attendees
• 13h00 LUNCH