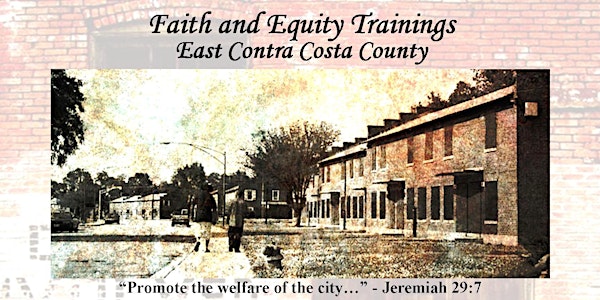 Faith and Equity Training Series
When and where
Location
Holy Rosary Church, Parish Ministry Building 1313 A Street Antioch, CA 95409
Description
About the Training Series:

For the past 3 years, the San Francisco Foundation's FAITHS Program, in conjunction with educators from the Interfaith Movement for Human Integrity, have trained over 200 faith leaders around the Bay Area to be faith advocates for economic and social justice. This year, we invite faith communities to nominate four leaders (clergy, lay and/or community leaders) to take part in our Faith & Equity East County training series. The trainings seek to increase the capacity and power of faith communities to advocate and organize for stable communities, fair policies and dignity for all. Trainings are FREE, but registration is required.
Goals of the Training:
To increase the capacity and the power of faith communities to advocate and organize for just and fair economic policies using their distinct faith voices

To provide faith-oriented trainings that utilize an engaging popular education methodology to tap into the wisdom and knowledge that already exists in the community

To "increase the bench" of faith leaders and lay leaders directly impacted, to feel empowered, resourced and inspired to improve local policies where they can make a difference.
Dates & Topics:

Saturday, April 23, 2016 - Training 1:
Sacred Land: Displacement, Housing & Community
Saturday, April 30, 2016 - Training 2:
Sacred Work: Wages, Work & Equity
Saturday, May 7, 2016 - Training 3:
Sacred People: Removing the Barriers to Opportunity (Incarceration and Immigration)

Time: 2-5 PM (Registration and Refreshments at 1:30 PM each day)

Contact FaithandEquity@gmail.com If You Have Any Questions