Sales Have Ended
Registrations are closed
Thanks for your interest in the Faith & Academics Conference we hope to unfortunately registration has ended if you have any questions email us.
Sales Have Ended
Registrations are closed
Thanks for your interest in the Faith & Academics Conference we hope to unfortunately registration has ended if you have any questions email us.
Description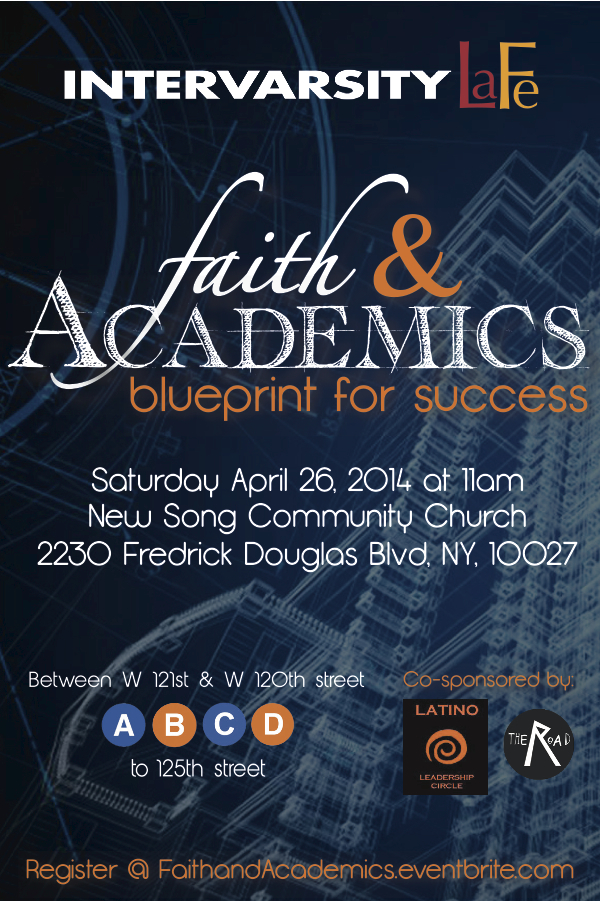 Join us for the Faith & Academics: Blueprint for Success as we equip students & parents with the tools they need for success on campus.
Our Purpose:
Faith & Academics is a college conference sponsored by InterVarsity Latino Fellowship and the Latino Leadership Circle.In 2010 we saw an increase of 437,000 Black and Latino college students in the U.S. according to Pew Hispanic Center and the U.S. Census Bureau. Yet Black and Latino students continue to have some of the highest college dropout rates. And unfortunately our Churches are often at a loss of how to identify and engage the needs of their college students.
This Conference will address the need for the local Church to connect faith and academic achievement as God's purposes for our youth and to be fully invested in their spiritual and academic success. Our goal is to strengthen the Churches ability develop young leaders by helping them persist through college with a flourishing and maturing faith in Jesus Christ and who are ready to contribute to a world in need of Godly leaders. This conference will also provide Black and Latino students the knowledge, awareness and skills they need to have a thriving college experience that leads to graduation.
Some Topics:
Loving God With Our Mind: A Biblical Perspective on The Development and Discipleship of the Mind

Dollars and Sense: Managing Your Finances and College Budget

Let Go/Let Grow: Parenting a College Student
Our Mission:
Expand the Vision of Black and Latino Students for Academic Achievement

Expose the Church in New York to the importance of Connecting Faith and Academics as a way to honor God with Our Minds.

Encourage and support Black and Latino students Toward Graduation
Cost:
This conference is free for all attendees however to cover some costs there is a suggested donation of $10.
Organizer of Faith & Academics : Blueprint for Success
LaFe is InterVarsity Christian Fellowship's national campus outreach to Latino college students. We are committed to developing leaders who embrace their Latino identity as a gift from God, live out of a strong sense of self-worth that empowers them for compassionate service and engage their campus community with the love of Jesus Christ as they explore God, faith, and the experiences of our people.
http://mem.intervarsity.org/lafe
CoSponsored by:
Latino Leadership Circle (LLC)
Latino Leadership Circle (LLC) is a cohort of emerging ministers dedicated to theological reflection, mutual support, and social justice. Among the deep convictions of the LLC is that we have voice representing emerging Latinas and Latinos in the body of Christ. We feel called to find a nexus of understanding within our bi-cultural and spiritual identity.Latino Leadership Circle facilitates mutually supportive Christ centered circles of emerging leaders who in engage the world and serve as catalyst for personal and community transformation

http://latinoleadershipcircle.org
The Road- Damascus Youth & Young Adult Fellowship 
The fellowship of Youth & Young Adults from the Council of Damascus Christian Churches, Inc. in the Greater New York Area District.''
https://www.facebook.com/CDCCYouth
New Song Community Church -Harlem
New Song Community Church is a neighborhood congregation BEING God's joy and justice in tangible ways out of love for Christ .