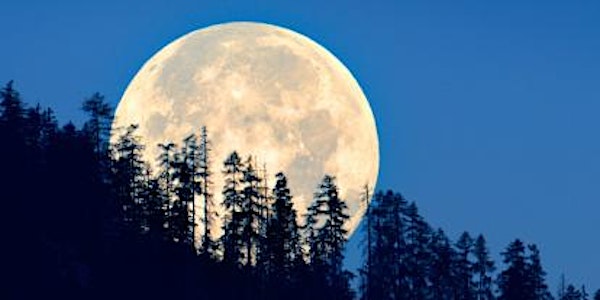 Fairmount Cemetery FULL MOON PHOTO SHOOT for PHOTOGRAPHERS
Photographers event to photograph the cemetery in the twilight and rising of the full moon - NO MODELS OR PROPS
When and where
Location
Fairmount Cemetery - MEET AT CHAPEL IN THE PINES 430 S. Quebec St Denver, CO 80216
About this event
Join us at Fairmount cemetery to photograph the sunset and the rising of the full hunter's moon Friday evening - photograph the monuments and statues utilizing the full moon light or artificial light that YOU provide.
Sunset - 7:18PM Moonrise 7:24PM
Remember this cemetery gets dark, it's best to bring your own flashlights , colored flashlights, pre-charged solar lights or glow stick for assisting in focusing, light painting, etc.
Highly suggested items are tripod, flashlights, glowsticks, battery operated candles ONLY!!
Due to the drought, dry conditions and fire danger - NO OPEN FLAMES ALLOWED!!!.
You will need a light source once the sun sets!!!
NO MODELS, NO PROPS, no pumpkins, no skeletons, no brooms, no decorations of any kind.
Strictly landscape type photography -
All photogs/participants are required to sign liability waiver at time of check in
No tickets sold at the door- must purchase in advance on Eventbrite.
ANY photos posted to any social media or elsewhere must have the names blurred or removed from the photo before posting -this is out of respect to all families
All Participants require purchase of ticket - including any assistants
All are required to check in AND check out of Chapel in the Pines
ALL Photographers may walk OR drive through the cemetery - urging caution when driving in the dark!!!
NO DOGS
CHECK IN AND OUT AT THE CHAPEL IN THE PINES
CHECK IN TIMES 6PM - OUT OF THE CEMETERY BY 10PM - checking out at the office BEFORE 10PM -
NO REFUNDS - Event is a GO regardless of weather conditions
----------------------------------------------------------------------------------------------------
Terms and Conditions
You agree to the following TERMS AND CONDITIONS with your ticket purchase:
Assumption of Risk
You understand that your participation in any type of event or activity for Fairmount is at your own risk. You acknowledge that some events or activities are potentially dangerous and that you are voluntarily assuming all inherent risks, including the risk of accident, injury or death, both known and unknown, arising out of such events and activities. You agree that in no event shall Fairmount have any liability for any loss or damage, whether direct, indirect, or incidental, you may suffer arising from or related to your volunteer service or association with Fairmount.
Waiver and Release
You hereby waive and relinquish any and all claims that you may have against Fairmount for liabilities, losses, and damages, including attorneys' fees incurred by reason of or arising out of any injury to any person, damage to property, loss of use of any property, violation of law, or otherwise in connection with or related to your volunteer service or association with Fairmount. You hereby release, indemnify, and agree to hold harmless Fairmount, its officers, directors, employees, agents, representatives, affiliates, licensees, successors, and assigns, from any and all claims resulting from injuries, including death, damages, property damage, or loss sustained by you and arising out of, connected with, or in any way associated Fairmount, the activities of the program or the use of facilities or equipment.
Indemnity and Defense
You further agree to indemnify and hold harmless and pay defense costs and defend Fairmount and its officers, directors, agents, employees, other volunteers, and affiliates, from all claims, causes of action, liability, damages, costs, losses, or expenses of any kind based upon, relating to, or arising out of your negligence, intentional acts or other misconduct in your volunteer service and association with Fairmount.
Insurance
Fairmount does not carry or maintain, and expressly disclaims responsibility for providing any health, medical or disability insurance coverage for Clients. Clients are not to be deemed employees or agents of Fairmount and Fairmount shall not be responsible for the purchase of worker's compensation insurance. Each Client is expected and encouraged to arrive with medical or health insurance coverage in effect. Each client expressly acknowledges that there has been no express or implied agreement by Fairmount to provide insurance coverage of any kind to the client.
Client Purchase
I, the purchasing Client or parent/guardian if under the age of 18, freely, voluntarily and without duress execute this Client Services Agreement, Waiver and Release. I understand that this Client Services Agreement, Waiver and Release is intended to be as broad and inclusive as permitted by the laws of the State of Colorado. I understand that this Client Services Agreement, Waiver and Release is governed by and interpreted in accordance with the laws of the State of Colorado. I agree that in the event that any clause or provision of this Waiver shall be held to be invalid by any court of competent jurisdiction, the invalidity of such clause or provision shall not otherwise affect the remaining provisions of this Client Services Agreement, Waiver and Release which shall continue to be enforceable.
TICKETS ARE NON-REFUNDABLE - NON-TRANSFERABLE