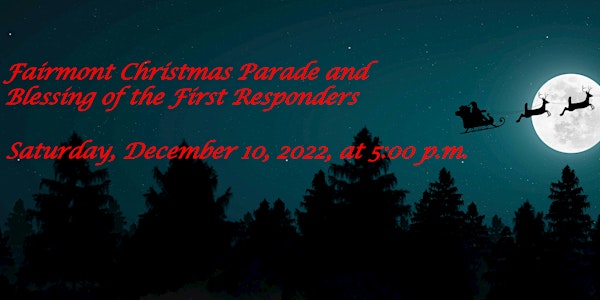 Fairmont (WV) Christmas Parade and Blessing of the First Responders 2022
Celebrate the Christmas season in Fairmont, West Virginia, by entering (for free) our annual city Christmas parade.
When and where
Location
Parade Route Start Fairmont Avenue and 4th Street Fairmont, WV 26554
About this event
Entry is free - we're just happy you're participating. Entries can be walkers, cars/vans/trucks, motorcycles, floats, first responder vehicles, ATVs, tow trucks, and even cement trucks sometimes. If you can walk it or drive it, decorate it and come join our celebration and have fun!
Floats and large entries line up at 3:30, and the main parade lines up at 4:00 p.m. We line up from the bottom of Everest Drive/Kirk Way. Our parade is held in coordination with the Feast of the Seven Fishes (sponsored by Main Street Fairmont), so we anticipate great crowds for both events! Like and watch our Facebook page (@FairmontChristmasParade) for the lineup, parade route, traffic, and other parade information. We are a "rain or shine" event with no alternate date, so we would only cancel this event due to serious safety issues.
Our parade and the first responder blessing are sponsored again this year by the Marion County Veterans Council, the same group that sponsors the Fairmont Veterans Day Parade.
The Fairmont Christmas Parade and Blessing of the First Responders is a family-oriented public activity designed to celebrate the Christmas season and to promote a positive atmosphere appealing to a general audience of Marion County residents and visitors to our city and county.
FAQs
In General
Santa (and Mrs. Claus if she has free time between cookie batches) will be in the Fairmont Fire Department's Ladder 47 truck, so no live, costumed imposters, please!
If you are including music, animals, or other aspects in your parade entry that might impact where we place you in the lineup, please make sure to let us know in your registration form so we can give you and the spectators the best experience possible.
Group Entries
If you are registering as a group, please make sure your group only gets registered once. Also, please be sure to let your group participants know the title of your entry and your group's lineup time to assist them in checking in to the parade and knowing your entry's spot number if you haven't communicated that information to your group participants before your lineup time.
Should I register multiple vehicle entries separately?
Yes, please. A truck with a float or trailer, walking groups, and most bike or motorcycle groups count as a single entry. However, if your group has multiple or other types of vehicles, please do a separate entry for each vehicle. There are no hard limits on the number of entries you can have, but we reserve the right to place reasonable limits on the number of entries. Please call/text Marci Carroll at (304) 612-5151 if you have questions.
Are there ID or minimum age requirements to enter the event?
We don't have ID requirements, but the person completing the registration and responsible for the entry must be at least 18 years old. We love having kids in our parade! Participants may be of any age so long as a responsible adult is in charge of the entry and present with the entry throughout the lineup and the parade route. Keep in mind that the e-mail and telephone numbers provided in the registration will be used as the contact point for the entry.
What are my transportation/parking options for getting to and from the event?
Please monitor our Facebook page for the lineup, traffic, and other parade information. Parking is not available at the top, bottom, or in the parade lineup for vehicles not actually in the parade. Also, there is no parking in the Marion County Rescue Squad lot.
Option 1: We heavily encourage riding in/on the parade vehicle if you can safely do so. If your parade participants can't do this, we suggest ride sharing (a/k/a carpooling) to minimize traffic congestion in the parade lineup and using one of the other options below.
Option 2: Participants may have a vehicle come through the bottom of the parade lineup and drive through the lineup to quickly drop the participant(s) off at their entry's assigned spot, but those drop-off vehicles may not linger in the lineup. These vehicles must continue uphill and exit the parade line up by turning right or left onto the next cross street. There will be absolutely no downhill traffic.
Option 3: A vehicle may quickly drop off the participant(s) at the Virginia Avenue/4th Street intersection and proceed along Virginia Avenue without entering the parade lineup. The participant(s) will then walk up or downhill in the parade lineup to their entry spot.
Option 4: Otherwise, you will need to park elsewhere and walk into the parade lineup.
Band buses typically utilize a significant part of the parking lot near the boat docks at Palatine Park and the first block or so of Guffey Street, so please do not depend on being able to park there.
Parents who are dropping off children should like and monitor our social networking feeds for information about drop-off and pickup locations close to the parade date. We strongly encourage parents of child participants to make advance arrangements on where to meet their child(ren) following the parade. We love your children and want to make sure they stay safe!
What about candy?
WE LOVE CANDY - well, and so do the kids along the parade route!!! Here's the candy rule - if your feet are NOT literally on the ground when you give it out, candy should be carefully thrown and clear the vehicles' parade path; if your feet ARE literally on the ground when you give it out, you can distribute candy by handing it directly to spectators if you want or carefully throw it. We all just want to avoid encouraging children and other spectators from darting into the parade vehicle path to snag delicious treats!
What is the Blessing of the First Responders and how does it affect our entry?
The Blessing of the First Responders has been incorporated into the Fairmont Christmas Parade since 2014 and occurs in front of the Marion County Courthouse. The Blessing was originally hosted by Marion County Homeland Security & Emergency Management and chiefly organized by Sabrina Haught until her retirement. Prior parade sponsor Fairmont Lions Club took over this event organization in 2019, and the Marion County Veterans Council is pleased to continue this tradition.
The Blessing is to honor and thank all of our first responders for their service to and sacrifice for our communities and to pray for their safety in the coming year. Almost all of the first responder vehicles participating in this event are found at the end of the parade line, and this event is rather popular with these folks.
This event will not affect non-first responder entries. These entries will pause briefly in the parade line in front of the courthouse while a team of volunteer area clergy quickly approach each vehicle and say a brief prayer asking for blessings upon the vehicle and its occupants.
Do I have to bring my printed ticket to the event?
Not necessarily. What you (or anyone else in your parade entry) need to be able to tell the person at the parade entry location is how your entry is listed (as in how you asked to have it listed in the lineup during registration). If bringing your printed ticket with you to the parade helps with that, then bring it.
Can I update my registration information?
Yes, please! If your registration information changes, please update your information ASAP by logging back into Eventbrite and editing your info. We take several factors into account when we design and mark the lineup. Also, if you need to cancel your registration, we'd appreciate knowing that too.
Can I "donate" my spot to another entry/Is it ok if the name on my ticket or registration doesn't match the person who attends?
Not so much. We take several factors into account when we design and mark the lineup. If you need to change or cancel your entry, please update your entry or log in to eventbrite.com and ask for a "refund" for this event. If someone else is interested in entering, please ask them to complete their own registration. Contact Marci Carroll if you have problems doing any of these things.
How can I contact the organizer with any questions or if I have problems getting registered online?
Please contact Marci Carroll at (304) 612-5151 (be prepared to leave a message if calling and identify yourself if texting), our Facebook page or Facebook Messenger, or fairmontchristmasparade@mrcfamilylaw.com. Questions or problems with your entry are best addressed by texting or calling, and our ability to respond on the day of the parade may be limited.