Fairfield Green Drinks Welcomes Dr. Kerry Kriger

Monthly Event - First Tuesday of every month: 6:00 PM to 8:00 PM (EDT)
Event Details
Fairfield Green Drinks
Tuesday, June 5th, 2012
6:00pm-8:00pm
Special Guest:
Dr. Kerry Kriger, Executive Director, Save The Frogs!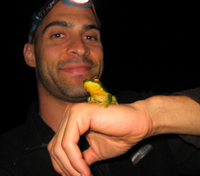 Featured at Green Drinks:
Operation Hope: Grow a Row for Hope
Dale's Organics
Join us at Green Drinks for this special opportunity to meet Dr. Kriger, visiting from California. Socialize and network with others interested in growing the local economy and learn how easy it is to support sustainability in your community. All are welcome. No admission charged.
Green Drinks Welcomes Dr. Kerry Kriger!
Dr. Kriger is the Founder & Executive Director of SAVE THE FROGS! Located in Santa Cruz, California, SAVE THE FROGS! is America's first and only public charity dedicated to amphibian conservation. Dr. Kriger holds a Ph.D. in Environmental Science from Griffith University in Gold Coast, Australia, and a Bachelor of Science degree in Mechanical Engineering from the University of Virginia in Charlottesville, VA. His scientific research focuses on the amphibian disease chytridiomycosis, a topic on which he has published 15 articles in peer-reviewed international scientific journals. His research into amphibian declines has been supported by the National Geographic Society and various philanthropic organizations throughout the world, and he has presented the results of his research at scientific conferences in several countries. Dr. Kriger has previously done research on endangered Hawaiian birds, and on the biophysical properties of amino acids involved in cystic fibrosis. He has taught university courses in Ecology, Vertebrate Biology, Applied Mathematics and Chemistry, has written and edited chapters for encyclopedias, and is fluent in Spanish and conversant in Portuguese. He has climbed mountains in the Himalayas, Alps, Alaska Range, Southern Alps and the Andes, and is an avid photographer who has created calendars and posters featuring his wildlife photography.    
Dr. Kriger's Lecture Experience
About SAVE THE FROGS!
Amphibian populations have been rapidly disappearing worldwide and nearly one-third of the world's amphibian species are on the verge of extinction. Up to 200 species have completely disappeared since 1979. Frogs and other amphibians face an array of threats from climate change to habitat destruction; pesticide use; over-collection for frog legs and dissections; invasive species; and infectious diseases spread by human activity. Frogs eat mosquitoes, provide us with medical advances, serve as food for birds, fish and monkeys, and their tadpoles filter our drinking water. Plus they look and sound cool, and kids love them!
Take Action:
Socialize, network and connect with others in a friendly setting. 
The Shack, Hometown Grill
2070 Post Road
Fairfield, CT
(203) 536-4695
Join us for casual conversation, the first Tuesday of every month at Fairfield Green Drinks. Summer dates and location are as follows:
Wednesday, July 11th and Wednesday, August 8th at Captain's Cove, Black Rock.
//
Where
2070 Post Road
Fairfield, 06824


Monthly Event - First Tuesday of every month: 6:00 PM to 8:00 PM (EDT)
Add to my calendar
Organizer
Daphne Dixon, Founder and CEO, Smart Town Network
Sharing information locally, regionally and nationally and supporting local action.
Fairfield Green Drinks Welcomes Dr. Kerry Kriger