JOIN US AT A SERIES OF BREAKFASTS WITH A PANEL OF WOMEN'S HEALTH EXPERTS
About this event
PURCHASE THE SERIES OF BREAKFASTS WITH A PANEL OF WOMEN'S HEALTH EXPERTS
In partnership with
biote, INNOVATOR IN HORMONE OPTIMIZATION
GLENVILLE MEDICAL CONCIERGE CARE
Wednesday, January 19th – Panel – Sexual Health and Nutrition
Integrative Medicine - Dr. Erika S. Krauss
Sexual Health – Dr. Katherine Sandhu – OBGYN Urogynecologist and Pelvic Surgeon
Nutrition – Katherine Takayasu, MD, MBA – Integrative Medicine Physician - Author Plants First: A Physician's Guide to Wellness Through a Plant-Forward Diet
Wednesday, February 9th - Mental Health and Skin Care
Key Note Speaker - Dr. Fiona Lovely – Host of Not Your Mother's Menopause Podcast
Skin Care – Dr. Kim Nichols – Nichols MD of Greenwich, Boutique Care for Beautiful Skin
Time: 10:00 to 11:30am.
Field Club of Greenwich, 276 Lake Avenue, Greenwich
$120 for the series
Contact: production@fairfieldcountylook.com
Sponsors: Roman Empire Farms CBD & NicholsMD of Greenwich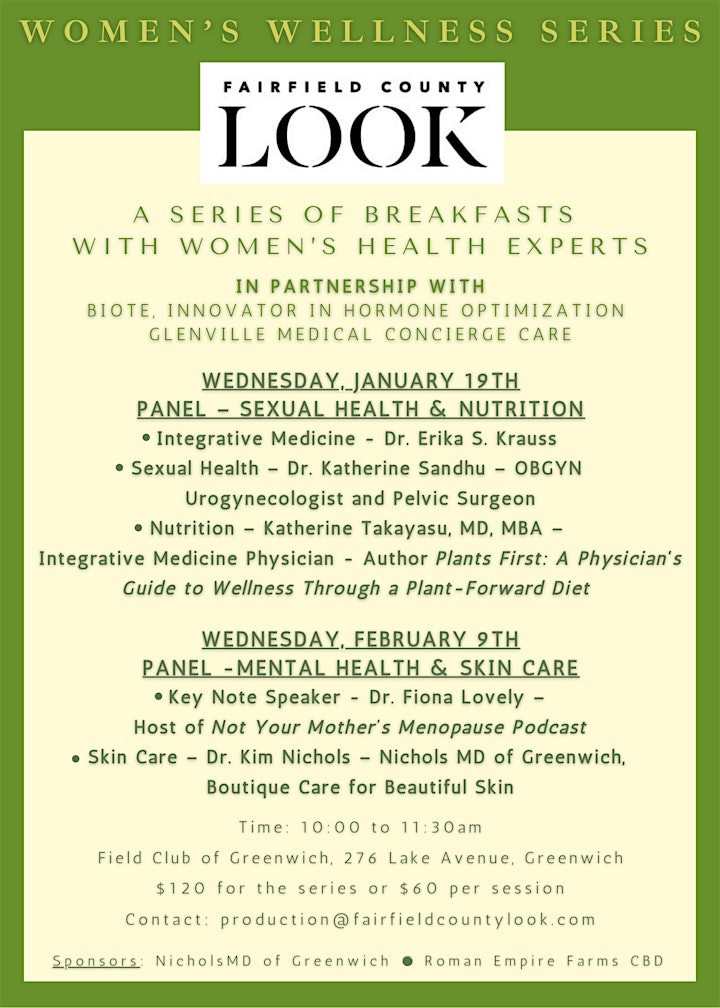 Organizer of Fairfield County Look - Women's Wellness Series Package
VIP Tent sponsor Fairfield County LOOK is a publishing and marketing firm specializing in event photography, strategic partnerships and media management in Fairfield County, Conn., and beyond. Our readership is affluent and sophisticated, and our publications are designed to inform and entertain.
We publish Fairfield County LOOK, a luxury online magazine featuring many of the region's premier events, articles on design, travel, real estate and more, and Greenwich LOOK, a luxury lifestyle magazine capturing countless fundraisers and fêtes organized by distinguished residents and nonprofits, and publishing original articles on fashion, travel, home design and in-depth interviews.
In addition, Fairfield County Look's creative team collaborates with businesses and individuals to bring visibility and growth to professionals through promotions, marketing materials and customized magazines. With our combined experience, we bring more than 40 years of web development, design, marketing and communications to the table—all working to achieve our clients' goals.