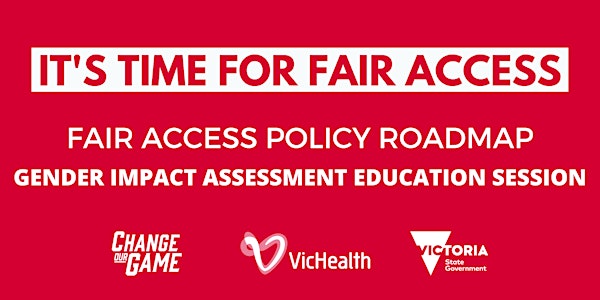 Fair Access Policy Roadmap Gender Impact Assessment Education Series
Gender Impact Assessment training for local government authorities, as part of the Fair Access Policy Roadmap
About this event
The Office for Women in Sport and Recreation, in partnership with Sport and Recreation Victoria and VicHealth, invite you to participate in a two-part education series on Gender Impact Assessments (GIA) to support your organisation as part of the Fair Access Policy Roadmap.
The Fair Access Policy Roadmap – announced in August 2022 – has been designed through a collaborative process to support state-wide gender equitable access and use policies being in place for community sports infrastructure from July 2024.
This education series is intended to guide you and your organisation through the legislative requirements of the Gender Equality Act 2020 (Vic). The sessions will explore how to consider the impact of your current sport and recreation policies in a practical and straightforward manner, as outlined in the Fair Access Policy Roadmap.
By the end of the sessions, it is our hope that you feel confident in your understanding of what Gender Impact Assessments are, and equipped to develop GIAs for your organisation's sport and recreation policies.
When
To assist with diary management, two sessions offered for each part of the series:
Part One: An introduction to Gender Impact Assessments
Friday 2 December, 12:00 - 2:00pm OR
Tuesday 6 December, 10:00am - 12:00pm
Part Two: How to do a Gender Impact Assessment
Monday 12 December, 10:00am - 2:15pm OR
Wednesday 14 December, 12:30 - 4:45pm
These sessions will be identical, so you only need to attend one per part.
The sessions will be held on Zoom with a link to be circulated one business day before and on the day the session.
Who should attend?
LGA employees who…
develop and review policies, programs or services in sport and active recreation
work in the gender equity, diversity and inclusion space
are leaders or decision makers in sport and active recreation
are open space or recreation planners
Representatives from recognised state sport associations are also welcome to join the sessions, noting the content will focus on LGA's obligations as defined entities under the Gender Equality Act 2020.
Registration
Please select your preferred dates for Part One and Part Two and complete your details on the registration page. Remember you only need to attend one session per part.
Questions?
Email the team at fairaccess@sport.vic.gov.au.
We look forward to seeing you at the upcoming education series.