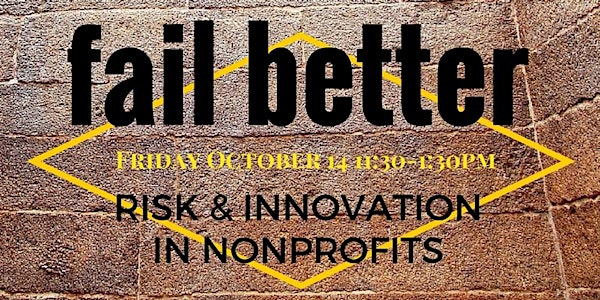 Fail Better: Risk & Innovation in Nonprofits (Leadership 201)
When and where
Location
Boulder YWCA, upstairs classroom 2222 14th St Boulder, CO 80302
Refund Policy
Contact the organizer to request a refund.
Description

BOARDS WITH BRAINS is SVP's open-to-all nonprofit governance education series. Join us for our 2016 trainings, like this one: Savvy nonprofits adapt to their community's changing needs – and yet, experimentation can feel risky. Join us for this session to learn why and how embracing risk and potential failure can drive innovation and relevancy--helping your nonprofit do better, faster.
About this Session:
Most organization are risk-averse yet want to innovate and maintain relevancy…taking smart risks can help nonprofits adapt to changing service needs, spark new programming directions and inspire donors. Smart leaders, entrepreneurs, and change agents design their innovation projects with a key idea in mind: ensure that every failure is maximally useful. Join us for this session where we'll look at how to apply risk and innovation to the work of nonprofits. Participants will learn why and how embracing and planning for informative failures can help you do better, faster. We'll examine how this way of thinking and acting can help Boards and executive teams evaluate hard choices, lead to more resources and infuse fresh thinking in stale organizations. Participants of this session can expect to learn how to:
Make predictions, map system relationships and establish how much risk you can afford

Build in experimentation and learn from every action step by collecting and examining the right data

Distill, share, and embed learnings to drive innovation in programming and services
About our Presenter:
Kara Penn, MBA, MPP is Principal Consultant for and Owner of Mission Spark, a management consultancy that partners with philanthropic, nonprofit and social enterprise leaders to achieve transformational results and to strengthen the social sector. Kara graduated from The Colorado College, where she was a Boettcher Scholar. She completed her MPP at the University of Chicago, and her MBA at MIT Sloan School of Management. She has been the recipient of three national fellowships (Watson, Coro and Forte), recognizing her leadership and community contributions. In 2014, she co-authored Fail Better, Design Smart Mistakes and Succeed Sooner (Harvard Business Review Press).
About the BOARDS WITH BRAINS series:
SVP Boulder County believes strong nonprofits deliver better results. For our nonprofits to be wildly successful, we believe strong leaders – both staff and board – help create adept organizations. Our BOARDS WITH BRAINS professional development series was designed with that in mind. We've got a variety of nonprofit leadership topics, as well as 'tracks' and levels to help attendees identify which sessions suit them best.
Our per-session fee is a below-market $40. Individuals or organizations can purchase a transferable, 8-punch pass (giving you a $10 discount on each ticket), and, each session also includes a limited number of scholarship slots (just ask).
Please note, SVP closes registration two days prior to each session and all attendees are asked to register in advance. Day-of drop in participants will be expected to pay on site with a credit card (please note, scholarship and 8-pack pricing is not valid for drop-in attendees), and should understand there may not be sufficient quantities of session handouts and materials available for them.
Find the full roster of classes in our 2016 BOARDS WITH BRAINS series on this page of our website.