FAFSA Hands-On Workshops

Friday, October 13, 2017 from 2:30 PM to 4:00 PM (HST)
Event Details
FREE Workshops Open to TRIO Graduating 2018 High School Participants.  All attendees must be approved TRIO Program Participants.  If you are unsure, please email lyle@hawaii.edu to inquire.
These workshops are intended to help provide addtional small group workshop times for students to get their 2018-2019 FAFSA (FREE Application for Federal Student Aid) submitted to meet school and scholarship deadlines.  These workshops may be adjusted/cancelled based on demand/need.
PLEASE NOTE: Student participant MUST ATTEND.  Parents attending workshop without a student participant will need to be rescheduled; however, parents are highly encouraged to be present with their student to complete the FAFSA.  See FAQs for more information.
You must bring in ALL required information and documents with you to complete the FAFSA (see Registration Ticket for more information).  The information and documents being requested are based on information asked for on the FAFSA.  Therefore, if you are unable to provide any documents or information, we may not be able to complete the FAFSA.  If you have questions, please call the EOC at 984-3286.
FAQs
Is my registration/ticket transferrable and do I need to bring my printed ticket to the event?
In order to best serve our participants, registration is not transferrable.  If you need to reschedule, please email lyle@hawaii.edu.  Mahalo for your understanding.
You do not need to bring in your printed ticket to the event.  But you do need to bring in required documents and information, which are outlinted on your ticket.
Does the student need to attend the workshop?

YES!  We will be completing the FAFSA application for the student who is planning to attend college, and TRIO programs provide services to the accepted student participant.  We also follow best practice guidelines that require a student to be present.  FERPA privacy laws at the post-secondary level are different from K-12, protecting the student's information - even from parents in most situations.  Financial aid offices are generally only able to disclose information pertaining to a student's financial aid status and award to the student - not the parent.  We therefore want the student to be present to understand their role in the financial aid process.  Furthermore, your son or daughter, as the student, must be present to sign off on the application to properly submit the application.
Does the parent need to attend the workshop?
We highly recommend a parent accompany their student because a student's FAFSA will not be complete until a parent signs-off on the application. A parent needs to be present to sign-off on your FAFSA. If your parent cannot attend, we will help you as best we can – but your FAFSA will not be complete until your parent signs. Please have all the information and documents ready and with you at your FAFSA workshop.
Who is considered a parent?
If your parents are married, OR remarried, OR unmarried but living together (this includes same-sex couples and adoptive parents, but does not include foster parents or legal guardians) provide Information for Both Parents (For remarried parents, provide information for the Parent & Step-Parent)
If your parent has never-married and is not living with other parent, OR is widowed and not remarried, provide information for your legal custodial parent.
If your parent is divorced and not remarried, OR is separated, provide information for the parent you lived with most in 2016. If you lived with both parents equally, then provide the information for the parent who provided more than 50% of your financial support.
Where is the Wong Conference Room?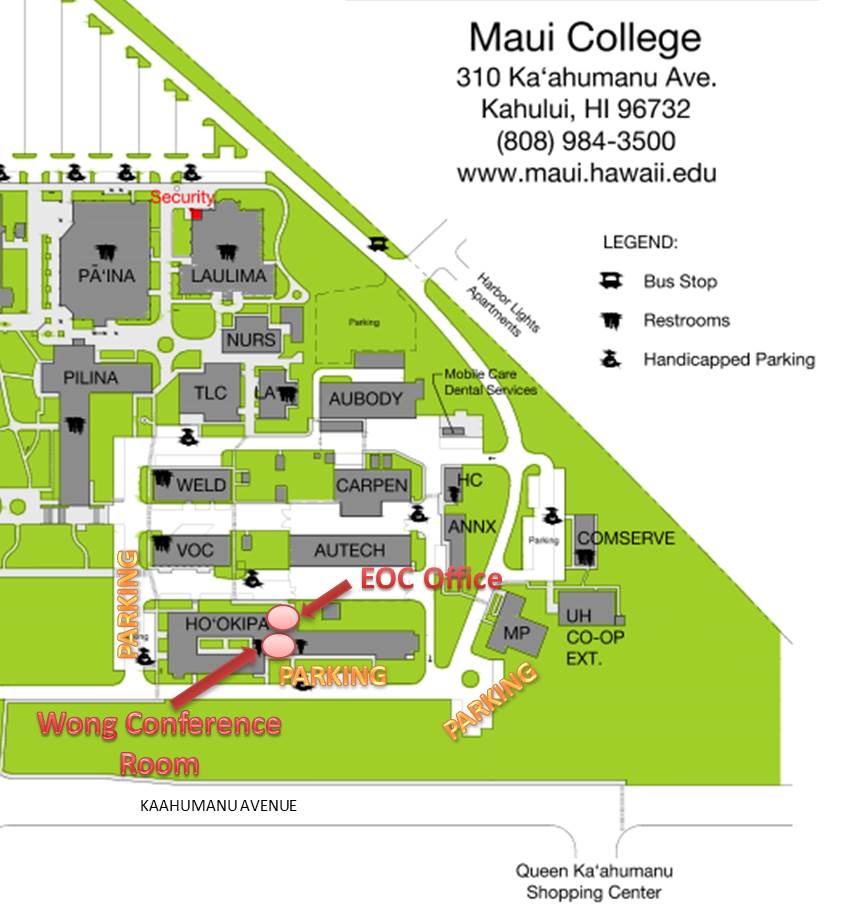 When & Where

UHMC Hookipa Builiding (Wong Conference Rm)
310 W Kaahumanu Ave
Kahului, HI 96732


Friday, October 13, 2017 from 2:30 PM to 4:00 PM (HST)
Add to my calendar
Organizer
High School Adviser with the TRiO Educational Opportunity Center (EOC) at UH Maui College. 
Email: lyle@hawaii.edu
Phone: (808) 984-3557