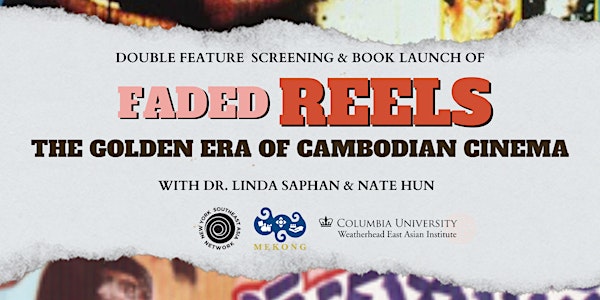 Faded Reels: The Golden Era of Cambodian Cinema
Faded Reels brings to light the essential contributions to world cinema made by Cambodia's greatest pre-war directors.
When and where
Location
Ford Foundation Center for Social Justice - McGeorge Bundy Room 320 East 43rd Street New York, NY 10017
About this event
***Proof of vaccination is required to attend***
The beginning of the 1960s saw the growth of the Cambodian film industry. Although heavily influenced by the politics of the time, many films celebrated the country's cultural legacies that ushered in what is considered to be Cambodia's golden age of cinema. Cambodia's political upheavals saw complete destruction of the industry as artists of all disciplines were targeted and killed under the Khmer Rouge genocidal regime from 1975 to 1979.
The 1990s saw a slow return of the Cambodian film industry, mostly through karaoke videos as well as the rise of the internationally recognized filmmaker, Rithy Panh, who brought back feature filmmaking and a new documentary genre. However, westerners who have written about Cambodian cinema chalked it up as either non-existent or at best B-rated horror movies. This gave rise to a need to document the contribution of early Cambodian cinema and its recent revival as an art form.
Join the New York Southeast Asia Network (NYSEAN), Mekong NYC, and the Weatherhead East Asian Institute for a double-feature screening of Cambodia's pre-war films Mother's Heart by Yvon Hem and Thavary Meas Bong by Uong Citta. This will be followed by the NYC book launch of Faded Reels: The Art of Four Cambodian Filmmakers 1960-1975 by Dr. LinDa Saphan, Sociology Professor at the College of Mount Saint Vincent which covers the early history of Cambodian cinema and four pioneering directors: Ly Bun Yim, Tea Lim Koun, Yvon Hem, and Uong Citta (aka Kanthouk) with a Q&A session with Dr. Saphan and Cambodian film collector Nate Hun. The discussion will be moderated by Sreyneath Poole, NYSEAN Program Coordinator.
SCHEDULE
3:00 PM - 4:30 PM: Mother's Heart (1963) by Yvon Hem
5:00 PM - 7:00 PM: Thavary Meas Bong (1969) by Uong Citta
7:00 PM - 8:00 PM: Faded Reels: The Art of Four Cambodian Filmmakers book launch and Q&A with Dr. LinDa Saphan and Nate Hun.
Please consider supporting Mekong NYC
Mekong NYC is a social justice organization that brings dignity and value to the lives of Southeast Asians in the Bronx and throughout New York City. We do this through community organizing and movement-building, centering healing through arts and culture, and creating a strong safety net rooted in community power. The Southeast Asian community in the Bronx primarily consists of Cambodian Americans and Vietnamese Americans, the majority of whom arrived in America after the end of the war in Vietnam and the genocide in Cambodia in the 1980s and 1990s.
To make a donation, please click on the link below: