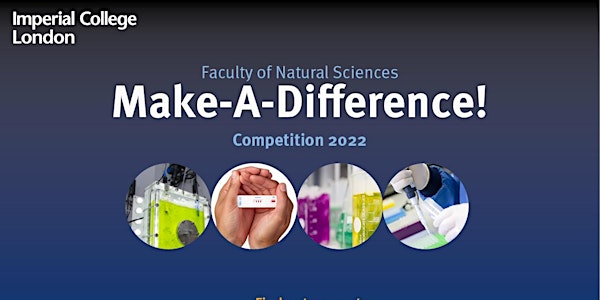 Faculty of Natural Sciences Make-A-Difference Competition Final 2022
The Final of the FoNS-MAD Competition 2022
When and where
Location
Lecture Theatre G16, Sir Alexander Fleming Building South Kensington Campus, Imperial College London London SW7 2AZ United Kingdom
About this event
We are very pleased to invite you to the Faculty of Natural Sciences Make-a-Difference (FoNS-MAD) Competition Final Judging Event which will take place on 26 October 2022, from 17.00.
The aim of the FoNS-MAD Competition is to provide undergraduate students with a forum to develop low-cost technology that would have a positive impact on society. The competition runs in 3 stages, with students working in teams to develop a low-cost technology idea. The top teams are given funding, lab space and a bursary to work on their project for 8 weeks over the summer.
At the final event, our  teams will present their projects to a panel of VIP judges and an invited audience of staff, students and guests. 
A drinks reception and buffet will follow the announcement of the winner.
For more information on the competition, please see our website at:
https://www.imperial.ac.uk/natural-sciences/education-and-teaching/fons-mad/