Faculty Idea Exchange - Teaching Conference at Columbus State Community Col...
Description

_____________________________________________________________________
The conference program is now available via the EventsXD® app. See the list of talks with abstracts, speakers, times, room assignments, and other helpful information. You can even plan your day via the My Agenda feature. See the instructions below to download the EventsXD® App which is available on iOS, iPad, Android, Windows Phone and Windows Tablet.

After downloading the app, open it. After opening, it should present you with an opportunity to sign in (if you have an existing account) or Sign Up to create a new user account. To set up the new user account you will need to provide your email address and a password.
Once you are logged in, search for "Faculty Idea Exchange 2019." If you see an ad pop-up, click the "x" in the top corner to close it.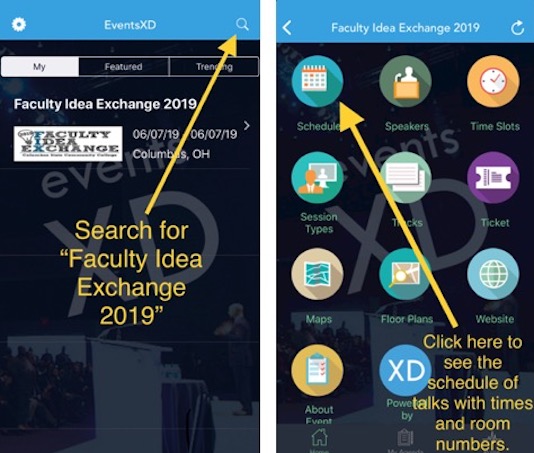 _____________________________________________________________________
The Columbus State Faculty Idea Exchange (FIX) is an annual summer conference planned by the CSCC Instructional Success Committee (ISC) that provides a forum where college educators can share and compare best teaching practices. FIX was originally designed for CSCC faculty and staff, but the ISC is excited to announce that educators from central Ohio and beyond are now invited to participate in this yearly professional development event.
FIX has developed a reputation for hosting leading figures in teaching and learning from around the country to serve as keynote and plenary speakers. This year's keynote and the plenary speaker is Dr. Jennifer Waldeck, Associate Professor of Communication Studies from Chapman University in California. Dr. Waldeck is renowned for her work in instructional and organizational communication research, with an emphasis on the effective use of new and emerging technologies for learning purposes. At FIX, her planned presentation titles are "Communication 101 for Teaching Excellence" and "Avoiding Teacher (Communication) Misbehaviors in College Classrooms that Work Against Student Learning."
This year, FIX will offer presentations in the traditional 50 minute format, and also in PECHAKUCHA style (aka Lightning Talks) - a presentation style in which 20 slides are shown for 20 seconds each (6 minutes and 40 seconds in total), making for fast-paced and potent presentations. Talks in this style are an exciting way to give an audience food for thought, to challenge an accepted way of thinking, to shed light on a practice or idea, and to do so with compelling visual accompaniment.
REGISTER NOW FOR OHIO'S PREMIER COLLEGE TEACHING CONFERENCE BY CLICKING THE GREEN "REGISTER" BUTTON ABOVE.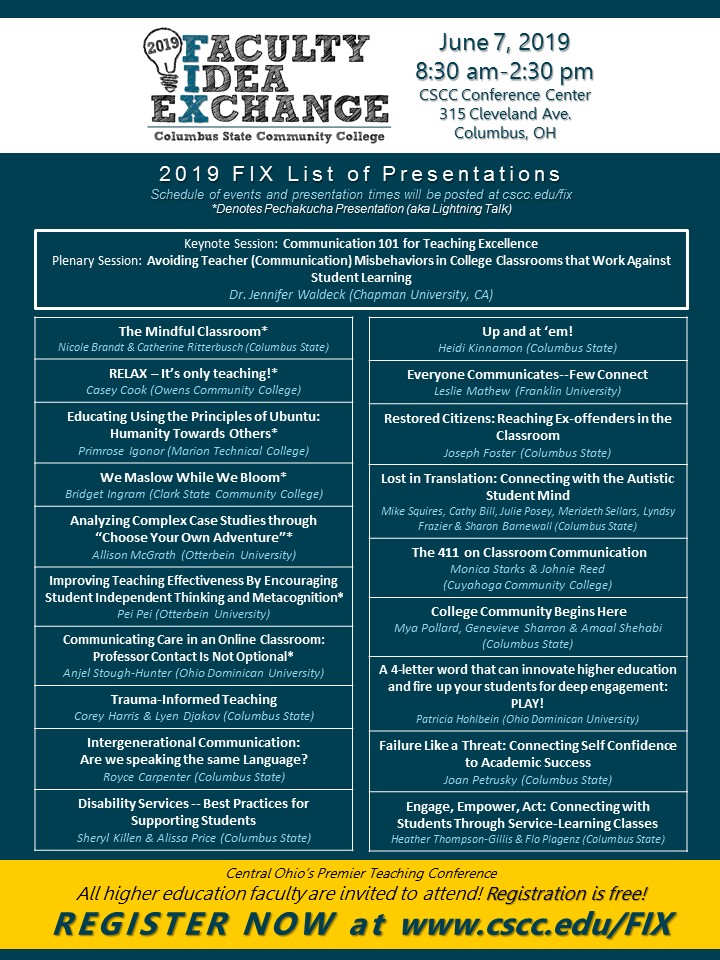 Click here to see presentation titles from past FIX conferences.
---
****CALL FOR PROPOSALS!****
The proposal deadline has passed.

---
FAQs
Who is FIX for?
The FIX conference is geared towards college educators who are looking for innovative ideas to improve classroom success.
Where can I see the program/schedule of presentations?
The conference program is in digital format. You can view the FIX program by downloading the EventsXD app on any mobile device or tablet and searching for "Faculty Idea Exchange 2019."
What are my transportation/parking options for getting to and from the event?
The COTA CMAX rapid transit route runs along Cleveland Avenue from Downtown to Polaris and includes stops at Columbus State. Please check the COTA website for available bus routes to Columbus State.
All attendees can park in any student lot on campus for the event. Printable Parking Map Please click here to download an accessibility space map. Temporary parking permits have already been issued. If you registered late and have not received a parking permit, please email fix@cscc.

Will lunch be provided?
Yes! A free boxed lunch will be provided to all registered participants*. Vegetarian and gluten-free meals are available upon request. *Once the initial allottment of tickets has been reached, "late registration" tickets will then be made available. Those with Late Registration will have access to all conference talks, however lunch and other extras are not guaranteed.

How can I contact the organizer with any questions?
For all inquiries, contact us at FIX@cscc.edu.

Do I have to bring my printed ticket to the event?
Upon registering for the event, you can show your printed ticket, show your QR code via your mobile device, or simply give your name.