Faculty Idea Exchange 2020 - Teaching Conference at Columbus State Communit...
Description
*****UPDATE (3/30/20)*****
The Columbus State Instructional Success Committee (host of FIX) has made the tough but necessary decision to cancel the 2020 Faculty Idea Exchange. We are sorry for any inconvenience this may cause, however public safety and health amidst the current COVID-19 pandemic is of utmost importance and was the driving force behind this decision.
We will focus our efforts on next year's conference, and we look forward to continued conversations with you about an even bigger and bolder FIX conference in 2021! We are grateful for your interest and support.
For now, please LIKE our Facebook page in order to stay up-to-date with all things FIX!
---
The Columbus State Faculty Idea Exchange (FIX) is an annual summer conference planned by the CSCC Instructional Success Committee (ISC) that provides a forum where college educators from Central Ohio and beyond can share and compare best teaching practices. College teachers from every institution are invited!
FIX 2020 is scheduled for June 19, 2020 from 8:30 am-2:30 pm at the Columbus State Community College WD Conference Center. We are excited to announce that this year's keynote and plenary speaker is Dr. Omid Fotuhi, a cognitive-social psychologist from the Learning Research and Development Center at the University of Pittsburgh, and the Director for Learning and Innovation at WGU Labs. He is renowned for his research on optimizing performance for student success, and his expertise includes the psychology of student success, mindset interventions, barriers to effective goal-setting, and how institutional messaging impacts student success.
In addition to the featured speaker, we are thrilled to invite faculty and other education experts from higher-ed institutions of Central Ohio (and beyond) to present at FIX 2020. Please see CALL FOR PROPOSALS below for details on how to submit a proposals to present.
PLEASE SAVE THE DATE AND REGISTER ABOVE TO JOIN US FOR ANOTHER CAN'T-MISS OPPORTUNITY! SEE YOU AT FIX 2020!
---
***CALL FOR PROPOSALS***
We are actively seeking proposals based on successful and innovative teaching strategies and their link to student success (e.g., motivation, effective study strategies, technology in the classroom, teaching best practices, etc.). Strategies that are applicable across all disciplines are preferred.
There are two presentation formats you can submit for:
1) TRADITIONAL - presentations that are 50 minutes in length, including some time for questions, and
2) PECHAKUCHA (aka Lightning Talks) - a presentation style in which 20 slides are shown for 20 seconds each (6 minutes and 40 seconds in total), making for fast paced and potent presentations. Talks in this style are an exciting way to give an audience food for thought, to challenge an accepted way of thinking, to shed light on a practice or idea, and to do so with compelling visual accompaniment.
---
Below is the schedule from LAST YEAR'S FIX.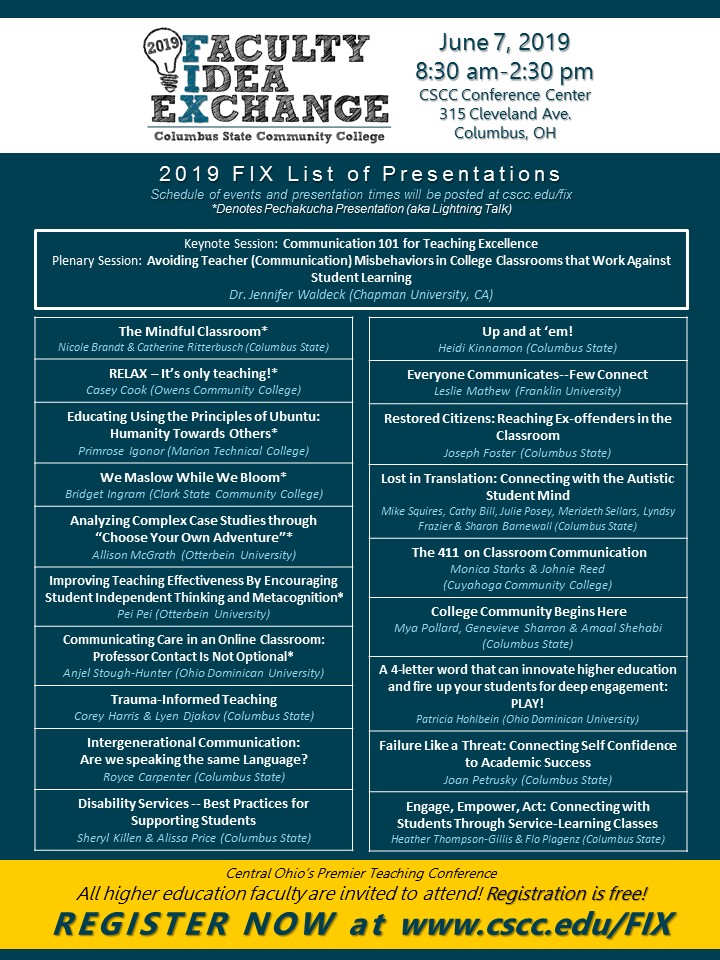 Click here to see presentation titles from past FIX conferences.
---

The free registration is made possible by the collaborative effort of many groups and individuals at Columbus State Community College. Despite the conference's rapid growth and popularity, our goal is to maintain the sense of partnership, collaboration, and idea exchange (rather than for profit or gain), all in the name of student success. Thank you for being a part of this unique professional development opportunity!

Special thanks to the following for their support:
CSCC Office of College Completion
CSCC Faculty Entry, Training, and Professional Development (FETPD) Committee
Dr. David Harrison - CSCC President
CSCC Addministration
Members of the CSCC Instructional Success Committee (host)
---
FAQs
Who is FIX for?
The FIX conference is geared towards college educators who are looking for innovative ideas to improve classroom success.
Where can I see the program/schedule of presentations?
The conference program is in digital format. COMING SOON!
What are my transportation/parking options for getting to and from the event?
The COTA CMAX rapid transit route runs along Cleveland Avenue from Downtown to Polaris and includes stops at Columbus State. Please check the COTA website for available bus routes to Columbus State.
All attendees can park in any student lot on campus for the event. Printable Parking Map Please click here to download an accessibility space map. Temporary parking permits have already been issued. If you registered late and have not received a parking permit, please email fix@cscc.

Will lunch be provided?
Yes! A free boxed lunch will be provided to all registered participants*. Vegetarian and gluten-free meals are available upon request.

How can I contact the organizer with any questions?
For all inquiries, contact us at FIX@cscc.edu.

Do I have to bring my printed ticket to the event?
Upon registering for the event, you can show your printed ticket, show your QR code via your mobile device, or simply give your name.