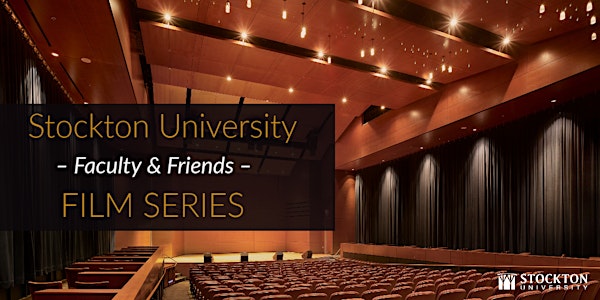 Faculty & Friends Film Series: Wild About Wine with Donna Albano
Join fellow alumni & friends for this live, interactive event as part of the Faculty & Friends Film Series!
About this event
As part of the Stockton University Faculty & Friends Film Series, faculty member, Donna Albano, an associate professor in Hospitality, Tourism & Event Management Studies, will lead a live, interactive discussion on wine fundamentals from the following three films.
Click Register to join us on September 8. A Zoom link to attend the event will be provided in your confirmation email.
"SOMM", (2013), available to rent on Amazon Prime for $3.99
SOMM takes the viewer on a humorous, emotional and illuminating look into a mysterious world—the Court of Master Sommeliers and the massively intimidating Master Sommelier Exam. The Court of Master Sommeliers is one of the world's most prestigious, secretive, and exclusive organizations. Since its inception almost 40 years ago, less than 200 candidates have reached the exalted Master level. The exam covers literally every nuance of the world of wine, spirits and cigars. Those who have passed have put at risk their personal lives, their well-being, and often their sanity to pull it off. Shrouded in secrecy, access to the Court Of Master Sommeliers has always been strictly regulated, and cameras have never been allowed anywhere near the exam, until now. How much do you think you know about wine? SOMM will make you think again.
"UNCORKED", (2020) watch it for free on Netflix
Fueled by his love for wine, Elijah enrolls in a course to become a master sommelier, an elite designation given only to a handful who are able to pass its notoriously difficult exam. It's a dream that upends the expectations of his father, Louis (Courtney B. Vance), who insists Elijah take over the popular Memphis barbeque joint that's been passed down from father to son since its inception. Elijah struggles with the demands of school and a new relationship, while Louis wrestles with the feelings of his son rejecting the family business until a tragedy forces both of them to slow things down. Written and directed by Prentice Penny (Insecure), and starring Mamoudou Athie, Courtney B. Vance, and Niecy Nash, Uncorked is a hilarious and touching drama about a father and son who have to finally learn to listen to one another.
"A YEAR IN BURGUNDY", (2013) watch it for free on Amazon Prime
The film follows seven wine-making families in the Burgundy region of France through the course of a full year, and delves into the cultural and creative process of making wine, as well as its deep ties to the land. What lies within the rhythm of a year, from vines to grapes to wine? The film is in four season-sections, and plays out against that backdrop: spring showers, drought, heat wave, hail and storms, harvest moons and the damp cold of winter. Each vintage is a time capsule, a bottled piece of history of a very specific year, with its particular weather pattern, its crises and its triumphs. It all goes in, whether you want it to or not, and 2011 was full of drama.
Faculty Leading Discussion:
Donna Albano is an Associate Professor in the Hospitality, Tourism & Event Management Studies (HTMS) Program at Stockton University's School of Business. Donna is responsible for teaching, research and service at the university as well as curriculum development, program review, and assessment. Donna teaches courses in hospitality and tourism management including Introduction to the Hospitality & Tourism Management, Hospitality Marketing, Leadership, Career Development, Internship and Wine Fundamentals. She developed Wine Fundamentals as an elective as a result of a sabbatical in 2016 to support the exploration of the wine industry and educational best practices to help define which areas of knowledge and skills in the wine educational process should be implemented in curriculum for Stockton's HTMS program.
Interested in hosting one of our Virtual events? Email your idea to alumni@stockton.edu.