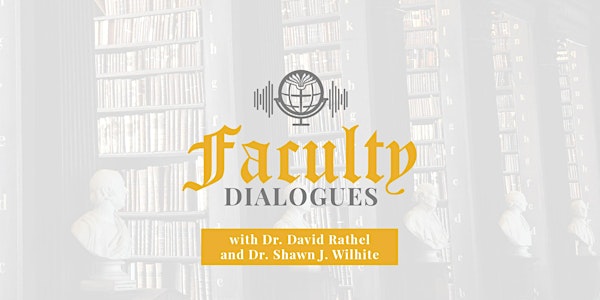 Faculty Dialogues: On Teaching the Doctrine of the Trinity
Register for a live discussion in Gateway's Faculty Dialogues series featuring Dr. David Rathel and Dr. Shawn Wilhite.
When and where
Location
Gateway Seminary 3210 East Guasti Road Ontario, CA 91761
About this event
Faculty Dialogues
On Teaching the Doctrine of the Trinity
Presented by Gateway's Ph.D. and Th.M. degree programs
Register for a live discussion with Dr. David Rathel and Dr. Shawn Wilhite on the doctrine of the Trinity with a specific emphasis on teaching it in the context of the local church.
Participants who RSVP ahead of time receive a free lunch during the event. Those who cannot attend in person can watch a livestream of the event on YouTube.
Faculty Dialogues is an ongoing series featuring Gateway professors discussing complex topics in theology, biblical studies, ministry and more.
Meet the Faculty
Dr. Rathel is associate professor of Christian theology and the author of Baptists and the Emerging Church Movement (2014) and chapters in The Miscellanies Companion (2018) and Baptists, Gospel, and Culture (2021). His refereed journal articles have appeared in Journal of Reformed Theology, Baptist Quarterly, and American Baptist Quarterly, and he has additional articles under review with other publications. He has preached in numerous churches and delivered conference papers at the University of Cambridge, the University of St Andrews, the University of Edinburgh, and the Edinburgh Dogmatics Conference. Dr. Rathel co-chairs the Evangelicalism in the Long Eighteenth Century Consultation for the Evangelical Theological Society. He is an Associate Fellow of the Higher Education Academy.
Prior to coming to Gateway Seminary, Dr. Rathel supplied pastoral care to churches in the United States and Scotland, served as an Adjunct Professor of Theology and Philosophy for the Baptist College of Florida, and provided teaching assistance for the University of St Andrews. Leadership of the St Mary's College Academic Skills Project afforded him the opportunity to develop a skills-focused curriculum for first-year theology students. Participation in the University of St Andrews Enhancement Theme Committee allowed him to collaborate with accrediting agencies and learn valuable pedagogical skills.
Dr. Wilhite is assistant professor of Christian studies at California Baptist University and author of The Didache: An Introductory Commentary, "One of Life and One of Death" Apocalypticism and the Didache's Two Ways and more. His primary field of research is New Testament and Early Christianity, which includes the Christian scriptures, Patristic theology, and use of Scripture in early Christian thought. His current research focuses on Cyril of Alexandria, Patristic Spirituality, and the Christian Scriptures, specifically Hebrews and Matthew.
Other interests include: Hermeneutics, History of Interpretation, Apostolic Fathers, Classical and Koine Greek, Late Roman Empire, Classical Latin Literature, Historical Jesus Research.