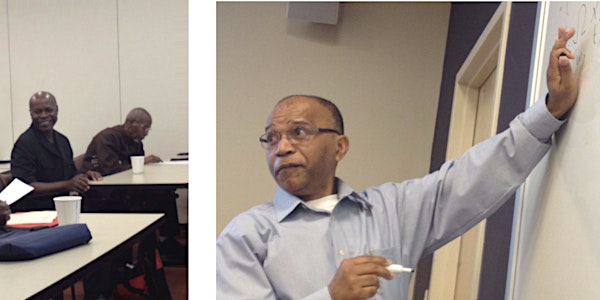 Faculty Conference on Research and Teaching Excellence
Refund policy
Contact the organizer to request a refund.
Eventbrite's fee is nonrefundable.
One-day virtual conference, geared towards faculty from HBCUs, focused on teaching and research excellence.
About this event
The National Association of Mathematicians, Inc. (NAM) will host its Faculty Conference onResearch and Teaching Excellence. This one-day virtual conference, geared towards faculty from Historically Black Colleges and Universities (HBCUs),will include the Albert Turner Bharucha-Reid Lecture, contributed talks from faculty, and a panel discussion.
Dr. Rhonda Fitzgerald, from Norfolk State University, will give the 2021 Albert Turner Bharucha-Reid Lecture. The title of her lecture is "From Riding the Bench to Leading the Team. Rewriting the Instructional Playbook for Pre-Calculus using the Flipped Model." This talk will give insights and results from my National Science Foundation (NSF) HBCU-UP Targeted Infusion Project grant (Engaging Students for Higher Retention and Building Stronger Foundation in Pre-Calculus Using the Flipped Model) that is coming to a close.
Dr. Rhonda Fitzgerald is a native of Williamsburg, VA and is an Associate Professor in the Department of Mathematics at Norfolk State University. She Received a B.S. in Mathematics and a M.S. in Applied Mathematics from Hampton University where she was a track and field athlete. Dr. Fitzgerald continued her education at Virginia Commonwealth University on the Medical College of Virginia campus where she was one of the first African Americans to earn a Ph.D. in Biostatistics. She is interested in and leads her students in research in Health Disparities and Mathematics Education research. Dr. Fitzgerald enjoys mentoring her students. She is a true example of the quote by Isaac Newton which states "If I have seen further, it is by standing on the shoulders of giants" and therefore she strives to be a shoulder for her students to stand. Rhonda was a Mathematically Gifted and Black honoree in 2020. Dr. Fitzgerald is a Faculty Fellow with the Center of Teaching and Learning at Norfolk State and also a Faculty Partner with Cengage Learning.
There is a call for Presenters to submit abstracts for contributed talks. Each talk will be 15 minutes in length (with 5 minutes for questions). Please complete the abstract submission form by Saturday May 1, 2021 at 11:59pm EST if you are interested in giving a talk at the FCRTE.
For additional questions about the contributed talks, contact vice-president@nam-math.org.