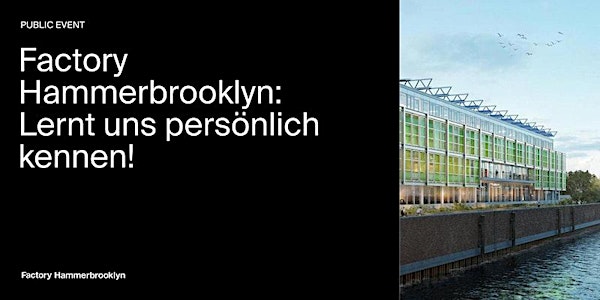 Factory Hammerbrooklyn: Lernt uns persönlich kennen!
Die Factory Berlin Community ist über die Grenzen ihrer Heimatstadt hinausgewachsen. Wir freuen uns, mit euch auf Entdeckungsreise zu gehen.
When and where
Location
Factory Hammerbrooklyn Stadtdeich 2-4 20097 Hamburg Germany
About this event
Die Factory Hammerbrooklyn befindet sich im Herzen Hamburgs und wird immer mehr zu einem lebendigen, inspirierenden Ort, an dem digitale Projekte, Ideen und Visionen gemeinsam erarbeitet und zum Leben erweckt werden.
Wir freuen uns sehr, lokale Künstler:innen, Start-ups und etablierte Unternehmen zusammenzubringen, die sich aktiv austauschen und gemeinsam die Zukunft gestalten. Unsere Zukunft.
Während der Führung werdet ihr das besondere Designkonzept des Gebäudes sehen und kennenlernen, das die aktive Interaktion ermöglicht und viel Raum für die Entwicklung eigener Konzepte bietet.
Das Herzstück der insgesamt 7.600 Quadratmeter ist unser Community Space - hier schlängelt sich der 50 Meter lange The Big Table (... einen so langen Tisch habt ihr noch nie gesehen - versprochen!) durch den Raum, an dem der Kreativität, Kommunikation und Inspiration keine Grenzen gesetzt sind.
Kommt vorbei, macht euch ein eigenes Bild, erlebt und erkundet den Ort und lernt das Team und die Community der Factory Hammerbrooklyn persönlich kennen. Wir freuen uns auf euch!
Neu Neu Neu
Der Wunschtermin ist bereits ausgebucht oder ihr möchtet uns direkt kontaktieren? Unsere Community Managerin Sarah steht euch bei Fragen und Wünschen sehr gerne unter sarah.just@factoryberlin.com zur Verfügung.
COVID-19 Sicherheitsmaßnahmen
→ Begrenzter Zugang vor Ort - für die Führungen gelten die 3G-Regeln.
→ Bitte weist einen vollständigen Impfschutz (14 Tage nach der zweiten Impfung) oder eine vollständige Genesung von COVID-19 (Zertifikat oder positiver PCR-Test nicht älter als 180 Tage und nicht früher als 28 Tage) oder einen Test (nicht älter als 24 Stunden, PCR-Test nicht älter als 48 Stunden) nach.
→ Bitte wascht und desinfiziert die Hände regelmäßig.
→ Während der Tour ist es zwingend erforderlich, eine medizinische Maske zu tragen.