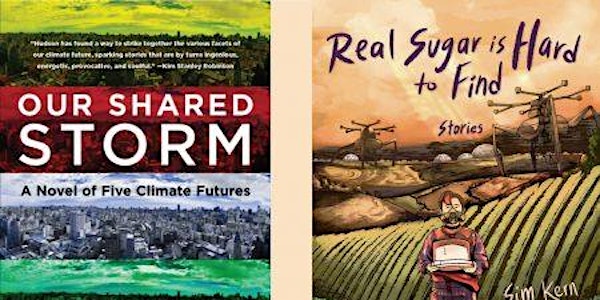 Facing the Storm: Two Authors Writing Climate Fiction
Join us for the September All But True, featuring climate fiction authors Andrew Dana Hudson and Sim Kern.
Refund Policy
Contact the organizer to request a refund.
Eventbrite's fee is nonrefundable.
About this event
Join us for the September All But True, featuring climate fiction authors Andrew Dana Hudson and Sim Kern. All But True readings are curated by the Working Writers Group and sponsored by the bookstore A Novel Idea on Passyunk.
Thursday, September 8th 6pm ET via Zoom
Suggested $5 Donation
Andrew Dana Hudson's Our Shared Storm combines five interlocking novelettes to probe the possibilities of our climate future. The year is2054, during global climate negotiations in Buenos Aires. Each story features a common cast of characters, but with events unfolding differently in each alternative universe. From harrowing to hopeful, these stories highlight the choices we must make to stabilize the planet.
"Hudson has found a way to strike together all the various facets of our rapidly changing climate future, sparking stories that are by turns, and often all at once, ingenious, energetic, provocative, and soulful. He is the face of this new movement in science fiction." — Kim Stanley Robinson
". . . fans of William Gibson and Kim Stanley Robinson will savor this thoughtful, rigorous exploration of climate action" —Publishers Weekly". . . a fascinating thought-experiment in imagining worlds to come"— Christopher Schaberg, author of Searching for the Anthropocene
The stories in Sim Kern's Real Sugar is Hard to Find take on the most traumatic issues of our time: climate change, reproductive freedom, queer love, social privilege, and the ethics of bringing children into a seemingly doomed world. Though the lives of the flawed characters are profoundly impacted by climate change and environmental degradation, the stories progress from dystopian to utopian, from the bleakest of futures to reasons for hope. Like Kelly Link's Magic for Beginners and Karen Russell'sVampires in the Lemon Grove, Kern's stories are unflinching explorations of our deepest fears, rendered irresistible fantastic speculative elements and a dark sense of humor.
"Kern is a master at creating worlds that feel vast and lived-in with very few words, as well as balancing pathos with wry humor. The result is a searing, urgent,but still achingly tender work that will wow any reader of speculative fiction." —Publishers Weekly