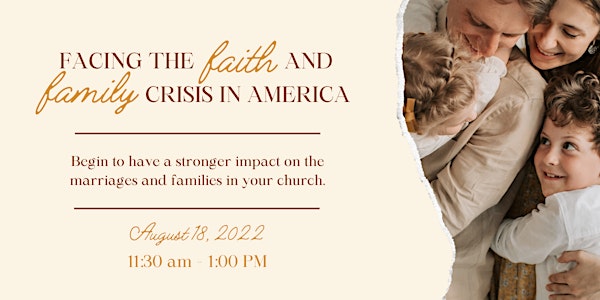 Facing the Faith and Family Crisis in America
Churches can have a stronger impact in building up marriages and families, within its own four walls and into the surrounding communities!
When and where
Location
TriPoint - A Center for Life 3233 North Saint Mary's Street San Antonio, TX 78212
About this event
There is a very real and noticeable collapse happening in our families. Broken marriages, fractured families, and hearts hardened to the gospel. Our families are in a real crisis, and the church has struggled in knowing how to address and deal with it.
Marriages and families need building up. They need the church to invest in real solutions and healthier relationship skills, providing a way forward for them, starting with marriage.
What if your church could have a stronger impact on: Single Life, Marriage Prep, Marriage Enrichment, and Marriages in Need?
What if your church could be equipped with insights and new strategies?
"By their design, Christian churches should be at the forefront of providing healing for relationships, both within and outside their congregation." - Greg Gianforte, Governor of Montana
We have invited J.P. De Gance Founder/President of Communio and co-author of the book "Endgame" to come and share with us.
J.P oversaw the largest privately funded community marriage project in U.S. history, lowering the divorce rate in one large U.S. city by 24 percent in just three years. He will share valuable information on the collapse of faith and family, and how those two are connected, in addition to how data tools can help your church combat this crisis, get healthier and engage and draw in people.
There is still hope that your church can build a vibrant and healthy community that fosters healthy relationships and marriages.
Join us for this powerful time of seeing how you can help set the vision and trajectory of your church on a new path for the families you minister to.