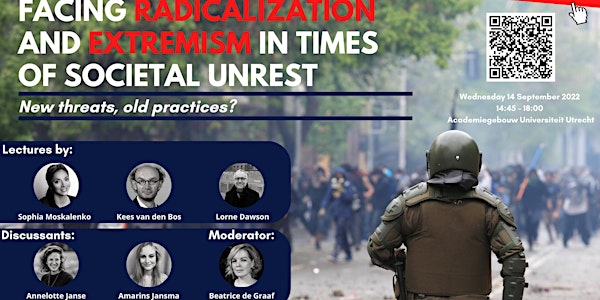 Facing Radicalization and Extremism in Times of Societal Unrest
Security in Open Societies presents "Facing Radicalization and Extremism in Times of Societal Unrest: New Threats, Old Practices?"
When and where
Location
Academiegebouw Universiteit Utrecht 29 Domplein 3512 JE Utrecht Netherlands
About this event
Security in Open Societies presents its upcoming lecture on the topic of radicalization and extremism.
Amid various global crises and the decline in citizens' trust in their respective governments, new extreme movements have emerged at both ends of the political spectrum. Some groups distrust the ruling power and seek to violently overthrow their rules and systems; other groups become increasingly isolated from society, fueled either by conspiracy theories and fake news, or focus their discontent on fellow citizens. As an effect, the threat they pose to democratic societies has become more diverse and multi-faceted. At the same time, these movements share a challenging characteristic: they have emerged from the mainstream of society, not the fringes.
Lorne Dawson (Professor at the Department of Religious Studies and the Department of Sociology and Legal Studies at University of Waterloo), Sophia Moskalenko (Program Specialist at the United Nations' Office of Counter Terrorism), and Kees van den Bos (Professor of Social Psychology in the Department of Social and Behavioral Sciences and Professor of Empirical Legal Science at the School of Law at Utrecht University) will discuss the rise, development and decline of various extremist movements. We will pay attention to the translation of existing knowledge on radicalization into practice. What has caused these new threats to rise, and why now? And how can we adapt and apply existing knowledge on prior threats to the more diverse spectrum of today's violent extremist movements? Do we need to change our perspectives and courses of action? The aim of this lecture is to answer these questions and provide knowledge to professionals dealing with these themes.
We are looking forward to welcoming you on 14 September 2022 in the Academiegebouw at Domplein 29 in Utrecht.
Please note: this is not a hybrid/live-streamed event. However, the lectures will be recorded for a podcast episode. The platform on which the episode will air will be announced later.