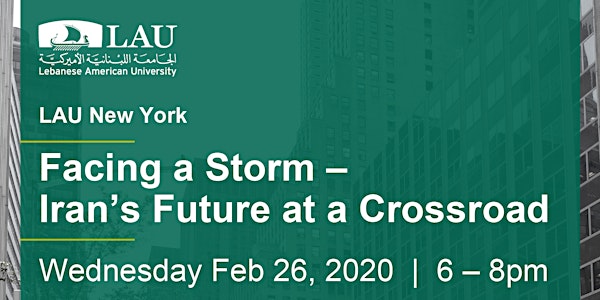 Facing a Storm – Iran's Future at a Crossroad
Discussion on the many challenges facing Iran moving forward.
When and where
Location
Lebanese American University New York Headquarters and Academic Center 211 E 46th Street New York, NY 10017
About this event
The American drone attack that killed Qasem Soleimani, Commander of the IRGC's Quds Force, struck as the regime was already facing popular unrest due to the toll tightening American sanctions have taken on the Iranian economy. Ahead of parliamentary elections set for February 21, Iran's retaliatory missile strikes on US bases in Iraq were aimed at avoiding further escalation. Expected to win control of parliament, hardliners have used the attack in an attempt to further sideline reformist candidates and shore up support among the Iranian people.
As international diplomatic efforts take a back seat, Iran's economy will continue to struggle. Its regional position has also come under fire as proxies in Iraq and Lebanon face protests of their own. But these numerous challenges have yet to pose a critical threat to Iran's Islamic leadership. What could be more decisive over the next year is the struggle around succession to Supreme Leader Ayatollah Khamanei, which could climax by the time of the next presidential election in 2021.
Please join LAU for a discussion of both the internal and external challenges confronting Iran at this time.
Mehrdad Khonsari, Senior Consultant, Iranian Centre for Policy Studies
Educated at Georgetown University's School of Foreign Service (B.S.F.S), Fletcher School of Law and Diplomacy (M.A. & M.A. L.D.) and the London School of Economics (PhD), Mehrdad Khonsari is a former diplomat, prominent Iranian opposition and academic figure. Currently, he is a Senior Consultant at the 'Iranian Centre for Policy Studies', a think-tank founded in France (2017-present). He resigned from the Iranian Ministry of Foreign Affairs, where he had served in key Embassies in Washington, London and the UN in New York (having also been a member of various Iranian delegations to the UN General Assembly, the UN Economic & Social Council as well as the 10th Special Session of the UN GA's Conference on Disarmament).
Subsequently, Mehrdad worked for 5 years as senior consultant to a major Saudi Arabian business corporation and as Director of a UK based Middle Eastern Educational Trust. Following this he spent over two decades as a Senior Research Consultant at the London based 'Centre for Arab and Iranian Studies' focusing on political, security and economic issues having to do with the Middle East and Iran in particular.