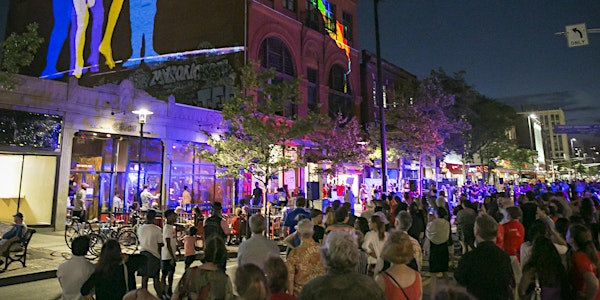 FACILITATING MOVEMENT IN PUBLIC SPACE: ART...DESIGN...NEW DESIRE LINES
When and where
Location
The Dance Complex 536 Massachusetts Avenue Cambridge, MA 02139
Refund Policy
Contact the organizer to request a refund.
Description
FACILITATING MOVEMENT IN PUBLIC SPACE:
ART...DESIGN...NEW DESIRE LINES
or How to walk down the street while texting
at The Dance Complex, Studio 7
536 Massachusetts Avenue
Cambridge, MA 02139
Monday, January 28, 2019 | 7:30-9:30pm
*Snow date Monday, February 4, 2019 | 7:30-9:30pm
ONLINE PURCHASES AND SALES AT THE DOOR: $15
An unsurprising assertion: we inevitably find ourselves moving -- or not! -- through complicated urban environments (Central Square, or similar, to take a handy example), whether walking, dancing, driving, biking, boarding, wandering, or some combination.
Given that, is it possible to come up with ways in which to forge "collaboration" among these kinds of movement – beyond traffic lights/street signs/crosswalks -- and to ease, or even enhance the experience of moving through public space?
What are the inhibitors to such enhancements -- whether physical, psychological, or some combination?

What are some possible enablers?

What kinds of

art,

what kinds of

design,

can contribute to the creation of new "desire lines" -- new opportunities for movement -- in these spaces?

This Workshop will unpack – and, with your participation, repack – the working definition(s) of movement to brainstorm some new initiatives for "nurturing navigation" in public spaces.
Stage setters for this will include: Peter DiMuro, Executive Artistic Director, The Dance Complex; Ron Mallis, Founder/Director, BostonAPP/Lab; Liz LaManche, Urban Artist; David De Celis, Co-Founder and Principal DCVL Design, and others.
"Collaboration," someone wrote, "is not about glueing together existing egos. It's about the ideas that never existed until after everyone entered the room."
Become a collaborator, in the Workshop and with your neighborhood's public spaces. It'll be great to see you and work with you!
ABOUT THE FACILITATORS:
Ron Mallis, founder/director of BostonAPP/Lab, is trained as an urban planner, having served in that capacity for 10 years with the firm of Goody Clancy. He launched the Lab in January 2013 as a committee of the Boston Society of Architects, and in June 2016 the Lab became a non-profit. The Lab hosts issue-and-action focused open Workshops, informed by the interplay of the art, the public, and the place. The Workshops, as well as an emerging project titled The ArtsCommons, seek to provide a forum in which to poke and probe for new, robust, and dynamic collaborations that strengthen and sustain arts in Greater Boston's public places. To date, the Lab has produced nearly three dozen of these collaborations – "brainstorming hubs" for discussion, for experimentation, for making art – that in turn have attracted nearly 500 participants. In designing and facilitating these workshops as well as The ArtsCommons, the Lab has engaged, as co-leaders, nearly 60 representatives of arts organizations, city and local agencies, individual artists, designers, schools, and universities. Areas of focus have included technology, urban design, and community-building, among others.
Ron's background also includes major stints in college publishing, management education, and management consulting. He continues to look for ways to respond to the question..."what can we do together that we can't do separately?" And to expand the definition of "we."
APP/Lab Mission: From its inception in January 2013 as a committee within the Boston Society of Architects, and, since June 2016, as a nonprofit, BostonAPP/Lab's mission has been to serve as an incubator for new collaborations on behalf of arts throughout Greater Boston's public places. Working within and across public, private, and non-profit sectors, and at a variety of scales, these collaborations are shaped and propelled by an inclusive vision that continues to emphasize civic engagement as critical to bringing this mission to life.
----------
Thanks to living abroad at an impressionable age, Liz LaManche grew up with a sense that there are many different ways of being and a big, fascinating and colorful world out there. Her imaginary worlds and creatures, and perverse desire to decorate everything, started appearing early in life.
She spent her early childhood in Turkey and Germany, and was influenced by early exposure to the people, art and architecture of Europe and Turkey, by French comic books, and by her grandfather, a Romanian amateur artist. Attending school in Connecticut, LaManche received a B.A. in Architecture at Yale University. There she studied graphic design with Inge Druckrey, and did a thesis project in architectural ornament/site specific urban installations advised by ornamentalist and sculptor Kent Bloomer.
She has spent much of her career as a designer for online media, running her own studio since 2001 (EmphasisCreative.com), and painting all the while.
Since 2004 she has also been working in large-scale paintings, some lit with custom-programmed color-changing LED light. Her 40-foot permanent outdoor color-changing mural in Hyattsville, MD, completed in 2013, was the first of its kind.
----------
Peter DiMuro has woven a career as a performer, choreographer, director, teacher, facilitator and arts engager, touring and teaching internationally.
His current creative umbrella is Peter DiMuro/Public Displays of Motion, a company that develops and performs artistic works and cultivates dance/arts literacy, advocacy and engagement. The company was recently awarded a Boston Center for the Arts residency, as well as the Boston Dance Alliance's 2014/15 Rehearsal and Retreat Fellowship. Peter was a Boston Mayor's Office Artist in Residence inaugural cohort participant, a recipient of a 2017 Creative City grant from New England Foundation for the Arts; and received a lifetime achievement award from Salem State University in 2017. Peter was named by the Isabella Stewart Gardner Museum its inaugural Choreographer in Residence for 2018. Peter also serves as a consultant in arts and corporate settings, most recently with Whole Foods and with the all-male drag ballet company, Le Ballet Trockadero de Monte Carlo.
In his earlier Boston years, he created work with his own Peter DiMuro Performance Associates and danced with Gerri Houlihan, Ruth Birnberg, Susan Rose and in the eclectic repertory (Bebe Miller, Lucinda Childs, Charles Moulton, Wendy Perron) of Concert Dance Company. He made his professional debut at what is now The Dance Complex's Julie Ince Thompson Theatre.
Peter was Artistic Director of Liz Lerman Dance Exchange 2003-2008, capping a 15-year relationship as performer. lead-artist/director and collaborator with the inter/national touring company founded by MacArthur "Genius" Lerman.
Peter was named a White House Millennial Artist in 2000, a 1995 Mayor of Boston/ProArts Award recipient, and his work has received grants/support from the National Performance Network, the Mass Artists' Foundation, Mass Cultural Council, MetLife Foundation and the National Endowment for the Arts. In 2010, he represented the US as an emissary for the Department of State in Madrid, teaching and adjudicating an international competition for emerging artists.
Peter has taught for Cornerstone Theatre Institute/LA, American Dance Festival and Bates Dance Festival and adjudicated American College Dance Festival Association regional conferences. He has been affiliated with Tufts University (artist in residence), Drexel University (associate professor), Michigan State University (guest artist/commissionee), American University, Emerson College, Boston University, The Boston Conservatory, and several college programs throughout his career.
Peter's work has appeared on tour and been commissioned by leading presenters, including The Kennedy Center/DC, Clarice Smith Performing Arts Center/MD, Tampa Bay Performing Arts Center, Dance Place/DC, DanceNOW at Joe's Public Theatre/NY, Dance Umbrella, the Emerson Majestic, Bates Dance Festival, American Dance Festival, AURAS Dance/Lithuania, as well as on a nationally aired television commercial for the National Institute on Aging. He directed seminal projects for Dance Exchange, including "The Portsmouth Naval Shipyard Project" and the 17-city tour of "Hallelujah Project", both engaging communities in dialogue and action to make dance/theatre. His "Gumdrops and the Funny Uncle" looks at multiple definitions of what makes a family, in a work set at the winter holidays.
He has served on the boards of the Dance Umbrella/Boston, National Performance Network, Dance/USA, Capitol Region Educators in Dance Organization, and as a mentor and panelist for New England Foundation for the Arts, Maryland State Arts Council, DC Commission for the Arts.
He received an MFA in Dance from Connecticut College under Martha Myers; a BFA in Theatre from Drake University, with early study with Sally Garfield, and continued study in New York, Boston and at the American Dance Festival. Originally from Round Lake, IL (population, circa 1970: 250), he is the youngest of three children, the son of the Chief of Police (Dad) and a machinist /gal Friday (Mom). He has a niece named for the Crayola crayon, Sienna.
Photo: The Dance Complex's Festival of Us, You, We, & Them 2017 by Kyle Klein courtesy of Central Square Business Association
---

Online registration end 2 hours prior to the start of the event. Pre-registration is only available online via credit card payment. Tickets may still be purchased at the door, generally for a higher rate, using cash, check, or credit card.

We advise arriving at least 10 minutes before the show start time. After the event has begun, entry is not guaranteed and refunds are not available. You may receive a refund through Eventbrite up until 24 hours prior to the event.

Our ground-level event space is ADA compliant. Gender-neutral accessible bathrooms are located on both the ground and second-floor levels of the building. There is a motorized lift that can bring one person at a time from the ground floor to the second floor should a guest wish to use it. There is no elevator.

If you have any further questions or concerns about refunds or ticketing, please contact Kristin Wagner, Front of House Manager, at kristin@dancecomplex.org. If you have any questions or concerns regarding accessibility at The Dance Complex, please contact Kara Fili at kara@dancecomplex.org.