Description

Encephalitis Global is proud to open registration for their annual FACES Encephalitis Conference! Just two easy steps:
complete your FACES registration $160 per person, and
book your hotel room $109USD per night (plus 12.4% tax)
More details on these two steps can be found below.
---
1. FACES 2018 Conference Registration:
The FACES 2018 Conference Registration Fee will be $160 US per person. This fee includes:
> your attendance at all FACES 2018 presentations at this 3-day Conference;
> Friday evening Welcome Reception (light snacks served);
> Saturday coffee break, lunch and buffet dinner; and
> Sunday coffee break and lunch.
Please note: Registration fee refunds will only be available up 30 days before the event.
No refund of paid registration fees can be made after that date (April 11, 2018).
---
FACES 2018 Conference Program:
Friends And Caregivers, Encephalitis Survivors (F.A.C.E.S.) will enjoy interacting and learning from each other as well as from the following presenters.
Anita Cheung Anita says, "meditation saved my life." When still in university, she struggled with anxiety and depression. When her mental health problems caused her to hit rock bottom, Anita was referred to a therapist who taught her the meditation tools that made it possible for her to manage her own mental health.
Coming out of that experience, Anita wanted to share the practice with as many people as possible, in hopes to make a difference to at least one person. In partnership with a clinical psychologist and a local business person, Anita started Moment Meditation – a beautiful meditation studio located in the heart of Vancouver Canada. She says, "We base the Moment Meditation method on an understanding of the brain and how meditation can support it."
Becky Dennis Becky is the president of Encephalitis411.org and serves as a patient advocate through speaking engagements and informative patient/caregiver sessions. She consults with patients in their diagnosis or recovery journey to provide guidance. She is also the author of a book called "Brain Wreck." In the past two years, Becky has played an instrumental role in developing guidelines for an encephalitis rehabilitation toolkit with infectious disease, neurology and academia across the globe.
Elizabeth R Hernandez, PhD Dr. Hernandez is a Traumatic Brain Injury survivor. Having recently completed a 4-year study of TBI survivors and their experience of returning to work after traumatic injury, she now coaches brain injury survivors. . As a doctor in Organizational Psychology, her coaching includes life skills, job skills, developing resilience and coping strategies and art therapy for survivors and their caregivers. Having experienced two severe traumatic brain injuries, Dr. Hernandez now brings her experience to help others who have survived traumatic brain injuries. She provides support and guidance for those in recovery as they rebuild their lives and work towards finding the "New Normal" successfully.
Chris Maxwell Author and peer navigator Chris Maxwell knows our feelings. From his personal struggle with encephalitis and epilepsy, and his journey toward health, he's learned principles to help those who feel alone. His stories, ideas, and mental exercises will help you identify tendencies, defeat fears, and reach your full potential. Feeling alone isn't the end of your story. Find hope and make friends, even in your struggles.
Further FACES program content to be announced.
---
2. FACES 2018 Hotel Venue: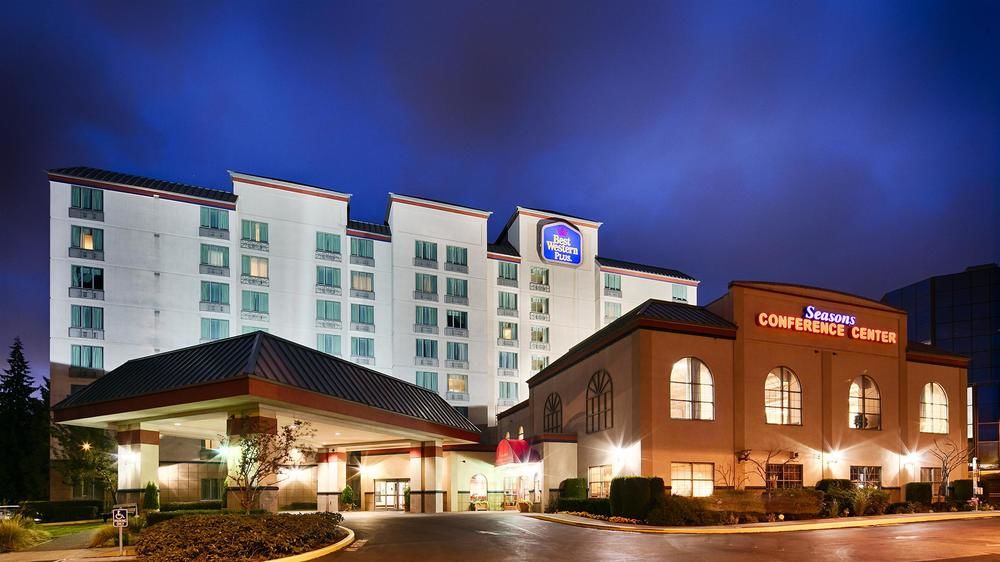 BEST WESTERN PLUS Seattle-Federal Way Hotel
Telephone: (253) 529-4000
32124 25th Avenue South, Federal Way, WA 98003

All activities for the FACES 2018 Conference will happen at the Best Western PLUS Seattle/Federal Way.
The special FACES room rate is $109USD per night (plus 12.4% tax). This lower room rate is only available until April 27, 2018 so book today!

Please note that this room rate includes:
> a complimentary deluxe hot breakfast
> a complimentary shuttle to and from the Seattle Airport
> a complimentary shuttle to nearby shopping *
> free WiFi
> pool and fitness center
Please telephone the BEST WESTERN PLUS Seattle-Federal Way Hotel at (253) 529-4000 to make your reservation. The Hotel is offering a lower room rate for all FACES attendees until April 27, 2018. You must state that you are attending the FACES Encephalitis Conference to receive this lower $109.00 per night group rate.
* Are you flying in to Seattle's SeaTac Airport? The BEST WESTERN PLUS offers a complimentary Airport shuttle available upon request. Please call the hotel at (253)529-4000 as soon as you land, to request transportation.