A celebratory feature taking place in St Andrews Churchyard across four nights in October half term.
About this event
We are lighting up St Andrew's Church in a poignant display as part of the re-imagined 2020 Winter Droving. Join us in St Andrew's Churchyard from 28th - 31st October 2020 to see the display (this is a live event).
The annual town celebration that is the Winter Droving has to be different this year due to the impact of Covid-19. However that doesn't mean that we just give up and do nothing.
Instead we are producing this celebratory event, championing the people of the town and district which make this place great through small acts of kindness, going the extra mile or caring for its people, businesses, its environment or its animals.
The projection display will last approximately 30 minutes.
PRODUCED BY EDEN ARTS, DIRECTED BY ADRIAN LOCHHEAD, WITH PHOTOGRAPHY BY ZOE FORSTER AND DIGITAL PROJECTION BY NICK GREENALL.
Eden Arts are asking for donations to support The Winter Droving going forward and Eden Arts work, as with many other arts and cultural organisations our income has been affected by the COVID pandemic and future work is at risk.
Please add the number of general admission tickets you require to your basket, and then add a Donation ticket if you would like to support this event and Eden Arts. Find out more about Eden Arts here https://www.edenarts.co.uk/about-eden-arts .
Winter Droving 2020 has been supported by Arts Council England, Cumbria County Council, Eden District Council, Penrith Business Improvement District, Pride in Penrith Lottery.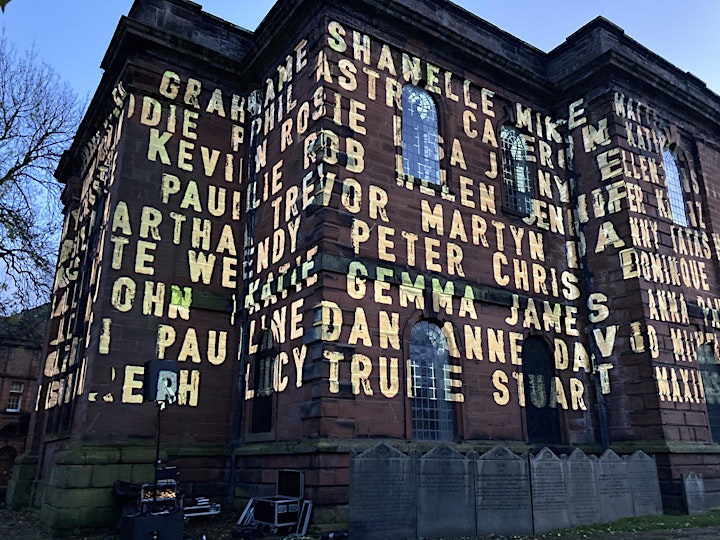 PARKING
Eden District Council Carparks are free, (Check our website for more info on Parking and Access) www.edenart.co.uk/WD2020
Click here to download event map.
COVID-19 Procedures
The event is ticketed to limit capacity to aid social distancing.
- Please arrive within the allotted timeslot on your ticket. Try not to arrive early.
- Have your ticket ready for scanning either on paper or on your phone.
- During the event, please listen to information and instructions from stewards and staff.
- It is recommended that you wear a face covering throughout the event.
- One way systems will be place on the walkways around St Andrews Churchyard. This is to aid social distancing and help to avoid cross traffic. Please follow instructions and signage.
- Please stick to the rule of 6
- Tickets are limited to 6 per person. This is inline with current government guidance.
- If you or any of your group have any COVID symptoms or have been told to self isolate please stay at home.
- Please adhere to your local tier lockdown rules, check your local public health measures here https://www.gov.uk/find-coronavirus-local-restrictions
We have undertaken extensive planning in conjunction with officers from Cumbria Police and Eden District Council. We are working to all regulations and government guidelines to make this a Covid secure event, however we know that rules and guidance may change and we might have to change our plans. If we need to postpone it we will let you know as soon as possible. Safety is our number one priority.