Facebook's "Project Libra": Will the Social Media Giant Disrupt the Cryptoc...
Description
Details
For those familiar with the blockchain ecosystem, the new technology holds promise that reaches beyond the technical implications and explores new social, economic, political, and cultural constructs. Statements such "Let's Change the World!" indicate the promise from the invention of the Bitcoin Blockchain by the pseudonymous Satoshi Nakamoto's White Paper issued in 2008 around the time of the Global Financial Crisis, proposing a new form of currency on the Internet struck a chord with many as to what people saw as the bad behavior of bankers on Wall Street creating hardships for Main Street.
However, the concept of "changing the world" also addresses the frustration of many who feel that the creation of the Internet and the World Wide Web in the late 20th Century provided a promise. That promise included the possibility of entrepreneurs who were perhaps excluded from having a voice be able to experience a new opportunity, an opportunity to become your own boss, work from home, and perhaps quit your day job. Indeed, at a time when for the first time in our country, the American Dream for the Next Generation seemed to be diminished, where we would have a lower standard of living than the prior Generation. Thus, the Internet was embraced with its hope of igniting a new American Dream embedded in the World Wide Web.
As the Internet has developed, its fundamental promise also seems to have been diminished, as many of the entrepreneurial start-ups such as Facebook, Google, and Amazon have grown so large as to have centralized and are now seen as the next "Wall Street" creating hardships for "Main Street". The "Blockchain Revolution" implies a new way forward – another chance at the American Dream through technology. What happens when one of the original startups, Facebook, introduces its own blockchain to the ecosystem?
Program
Come hear from leading blockchain policymakers and experts in D.C. on their insights for the broad implications of this announcement, with a Keynote by Congressman Davidson of Ohio followed by an expert panel:
8:30am Introduction by the Value Technology Foundation and Blank Rome LLP
8:40am Keynote: Congressman Warren Davidsion (R-OH)
9:00am Fireside Chat with Congressman Davidson and Michael Del Castillo, Forbes
9:30am - 10:30am Panel: Facebook's Project Libra: Will the Social Media Giant Disrupt the Cryptocurrency and Blockchain Disruptors?
Moderator: Michael Del Castillo, Forbes
Panelists:
Ron Hammond, Legislative Assistant, Congressman Davidson (R-OH)
Bill Rockwood, Jr., Financial and Technology and Policy Advisor, Congressman Soto (D-FL)
Kristin Smith, Director of External Affairs, Blockchain Association
Michelle Gitlitz, Partner at Blank Rome LLP, Co-Chair at Blockchain and Digital Currencies Group
Event Sponsored By:


Keynote Address: Congressman Warren Davidson (R-OH)
Congressman Warren Davidson (R-OH) is the author of the Token Taxonomy Act, serves on the House Financial Services Committee and the newly established Financial Technology Task Force. Congressman Davidson will provide a Keynote address over breakfast to discuss Facebook's Project Libra and its policy implications for blockchain and cryptocurrency.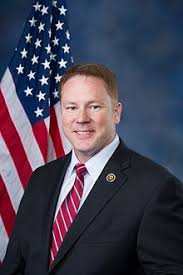 Warren Davidson was born and raised in Ohio. After high school, he enlisted in the Army where he proudly served for 12 years. He excelled as a soldier compelling his commanders to recognize his work ethic and leadership abilities. This earned Warren an appointment to the United States Military Academy at West Point.
At West Point, Warren excelled in the classroom by finishing in the top ten percent of his class. He majored in American history and minored in mechanical engineering, leading to a healthy obsession with the principles instilled in the Declaration of Independence and the checks and balances defined in the Constitution. His stellar reputation as an Army officer earned him positions in distinguished units: The Old Guard, The 75th Ranger Regiment, and the 101st Airborne Division. One of the highlights of Warren's military career was witnessing the fall of the Berlin Wall while he was serving in Germany.
In 2000, Warren returned to Ohio to help with his father's manufacturing business. As he continued to reshape the family business, Warren started another business and earned an MBA from the University of Notre Dame. Warren built cultures of excellence, growing the family shop from 20 employees to multiple companies with over 200. He is a tireless advocate for the small business community, and he is the former Chairman of the Dayton Region Manufacturers Association.
Warren won a special election in June of 2016 to fill the remainder of the term of outgoing Rep. John Boehner. He was re-elected to his first full term in Congress in November of the same year. In Congress, Warren serves on the prestigious Financial Services Committee, where he is focused on policies that promote economic growth. Warren's other priorities in Congress include fixing the VA, defending the constitution, and making sure the political elites don't bankrupt America.
Warren recently celebrated 21 years of marriage with his wife Lisa. They are proud of their two children, Zachary and Rachel.
As a constitutional conservative and military veteran, Congressman Davidson takes his congressional oath to support and defend the Constitution of the United States very seriously.
Panel: Project Libra: Will the Social Media Giant Disrupt the Cryptocurrency and Blockchain Disruptors?
Moderator: Michael Del Castillo, Forbes
Michael covers enterprise adoption of blockchain and cryptocurrency. He reports on how blockchain and cryptocurrencies are being adopted by enterprises and the broader business community. His coverage includes the use of cryptocurrencies such as Bitcoin, Ethereum and Ripple, and extends to non-cryptocurrency applications of blockchain in finance, supply chain management, digital identity and a number of other use cases. Previously, he was a staff reporter at blockchain news site, CoinDesk, where he covered the increasing willingness of enterprises to explore how blockchain could make their work more efficient and in some cases, unnecessary. He has been covering blockchain since 2011, been published in the New Yorker, and been nationally syndicated by American City Business Journals. His work has been published in Blockchain in Financial Markets and Beyond by Risk Books and he is regularly cited in industry research reports.
Panelist: Ron Hammond, Financial Services Legislative Assistant, Congressman Warren Davidson (OH-8)
Ron Hammond is the Financial Services Legislative Assistant for Rep. Warren Davidson (OH-8). He is also the legislative lead for the Token Taxonomy Act. In addition to being the legislative lead for the Congressman's efforts on the House Financial Services Committee, Ron handles education, prescription drugs, housing, trade and insurance issues for the Congressman. Legislation he is lead for includes: The Common Sense Opportunities Act, Derivatives Fairness Act, Due Process Restoration Act and Market Data Protection Act. Before coming to Capitol Hill, Ron was the campaign manager for three successful Texas State Senate races. He is a former board member of the Capitol Hill Community Service Association and on weekends coaches 1st and 3rd grade flag football in a local Capitol Hill league.
Panelist: Bill Rockwood Jr., Financial and Technology Policy Advisor, Congressman Darren Soto (FL-9)
Bill Rockwood is the Legislative Assistant and primary technology staffer to Congressman Darren Soto of Florida's 9th District. During his time as a Congressional staffer, he drafted a variety of technology and finance bills/amendments, including those related to artificial intelligence, blockchain, cryptocurrency, and cybersecurity. He is a graduate of Rollins College, the Crummer School of Business Administration and Georgetown University Law Center.
Panelist: Kristin Smith, Director of External Affairs, Blockchain Association
Kristin runs the Blockchain Association, a Washington DC-based trade association that works to improve the public policy environment in order for the open blockchain technology ecosystem to thrive. Kristin leads the association's engagement with its members and outreach to policymakers. She is responsible for the strategy that drives the organization's education efforts, advocacy campaigns, and events. She also serves as the spokesperson for the association. Prior to the Blockchain Association, Kristin advised blockchain companies on how to navigate Washington. She served as a congressional aide on Capitol Hill for nearly ten years, much of which was spent focusing on technology policy. She holds an MBA from NYU Stern and serves as President of NYU's Blockchain and Digital Asset Forum Alumni Advisory Board.
Panelist: Michelle Gitlitz, Founder and Co-Chair, Blockchain Technology & Digital Currencies, Blank Rome LLP
Michelle Ann Gitlitz is a founder and co-chair of the Firm's Blockchain Technology and Digital Currencies Group.An experienced regulatory lawyer and litigator, Michelle's practice focuses on the legal and regulatory issues confronting companies and individuals who bring blockchain applications to market. Michelle's clients include emerging and established companies, broker-dealers, funds, and other participants in the Fintech space.Michelle guides her clients through the evolving regulatory and legal landscape that governs their business model. Her experience includes advising individuals and companies as they raise capital through coin/token issuances and digital currency offerings, form digital currency exchanges/platforms, establish digital currency mining operations, navigate through federal and state money transmission issues, and in connection with federal and state regulatory enforcement actions.
This event is brought to you by the Value Technology Foundation. Find out more at: www.valuetechnology.org