Facebook RockSTAR: Marketing & Brand Visibility Strategies For Making A BIG SPLASH Even On A Small Budget!!

Multiple Dates
Event Details
Attention Self Employed Professionals, Coaches, Consultants, Trainers, & Small Business Owners Responsible For Their Own Marketing.
There are over 900 million people using Facebook and it's the highest trafficked website second only to Google…so how are you harnessing its power??
 Do You Want To Be A 

RockSTAR!!
If You Are You Tired Of Being An Industry Best Kept Secret and Want To Learn How To Use Facebook To Uplevel Your Visibility and Credibility Online Then Join Me and Get Ready to ROCK YOUR BIZ ONLINE!!
Are you suffering from social media overload and just want clarity on what to do first?
Do you want to get not only more likes but more traffic from your online activities?
Your tired of spinning your wheels and want to get more accomplished in way less time?
·        Do you want to know how to successfully promote yourself and your business without alienating your friends, followers, and fans?
Well let's make it happen…here's how:
The year is almost over and its primetime to put your visibility action plan into practice…that is if you have one. If not then this webinar is just for you in fact if you don't have one even better because I am going to teach you from scratch how to build a bigger, better, more profitable presence online with way less energy and effort. Most often I find business owners spinning their wheels trying to find the best way to get the word out about who they are and what they do in a big way without being pushy or salesy yet they just don't know how to do it. Well your in luck because I am going to tell you exactly what to do.
Join me Jessica Lawrence The Golden Girl of www.GoldenGirlMarketing.com as I host a very special webinar dedicated to teaching you how to ROCK Your Biz Online using Facebook.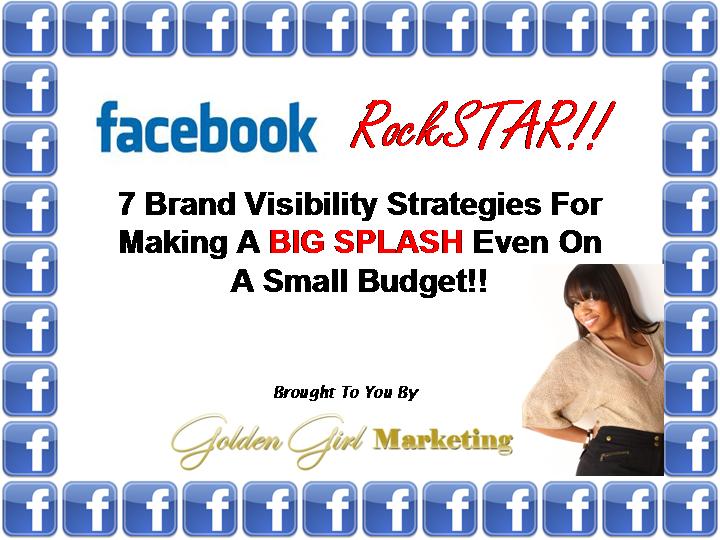 Here's some of what we will cover:
How to sell and market to women on Facebook vs. marketing to men

Tips for increasing engagement, visibility and credibility on Facebook

What to measure and how to attract the right audience to your page

Key strategies for building buzz, building your list, and & building digital visibility for long term success

What kinds of content make the most impact in social media

How to up the level of engagement to make a difference in your bottom line

Why marketing on Facebook can make a BIG SPLASH even on a small budget

What action steps you can take next and how to get the support you need to leverage yourself online and offline.

PLUS I'll teach you how to CREATE RESULTS in just 20 minutes per day

Every attendee that registers will also receive:
    

Access to the Powerpoint Slides used in the webinar

     

MP3 Recording

     

Downloadable Workbook

    

Visibility Checklist including a list of tools and resources
As a special limited time bonus you'll also receive the 48 hour video playback, my Social Media Metrics Blueprint which lays out exactly what to measure, when, and how to track it ($47 value) but also my Digital Visibility Checklist in PDF format delivered straight to your inbox before the call…all of which I will go over with as well in a BONUS Q & A segment. So get ready to uplevel your business and brand online and lets get connected. See you on the call. 
Have questions about Facebook RockSTAR: Marketing & Brand Visibility Strategies For Making A BIG SPLASH Even On A Small Budget!!?
Contact Golden Girl Marketing
Organizer
Event Organizer & Chief Visibility Strategist Jessica Lawrence "The Golden Girl"
www.Facebook.com/GoldenGirlMarketing 

Jessica Lawrence The Golden Girl, Author of Social Media Chic "The Little Black Book of Marketing Online For Savvy Brands and Businesses" is the Chief Digital Marketing Strategist and Online Visibility Expert of www.GoldenGirlMarketing.com  Jessica's specialty is helping business owners tap into their profitable persona to up thier industry authority using her unique methodology aptly title "The Social Chic Approach"; a step by step visibility blueprint for creating digital visibility.

Golden Girl Marketing is a full service boutique digital marketing headquarted in Atlanta, Georgia specializing in providing hands on training, strategy, consulting, and implementation for small business owners and entrepreneurs who are ready to use digital marketing and social media to get the word out about who they are in a BIG Way!! We specialize in creating "Signature Visbility Blueprints" that successfully integrate online and offline strategies for maximum brand exposure.