Description
**THIS IS AN ONLINE LIVE HANDS-ON WORKSHOP**


Create A Facebook Messenger Bot Hands-On Online Workshop (LIVE) - Saturday, August 10 2019
3pm - 6pm EST, ONLINE
Enroll in this live one-day online workshop and learn how to create a high-converting Facebook Messenger chatbot that turns ice-cold prospects into red-hot buyers using 1-on-1 engagement at scale.
You're Missing Out On The Most Profitable Marketing Channel Of 2019
Are you marketing where your target customers are hanging out? Messenger marketing is growing rapidly and changing the way customers interact with brands, and Facebook Messenger is the biggest messaging app right now.


With over 2 BILLION monthly active users using Facebook Messenger alone, a huge percentage of our society prefers to communicate with family, friends, and brands via messages with quick responses.


By leveraging Facebook Messenger bots right now and strategically, you'll gain a business edge over your competitors — because you're reaching people where their attention is already focused...


Using 1-on-1 engaging messages that are automated and allows you to scale up your business with no extra effort on your part.


Put simply: Adapt… or see your competition move ahead of you eventually.


However, the true power of Messenger marketing lies in the ability to drive relationships as well as engagement.


And Chrys will show you exactly how you can start implementing Facebook Messenger marketing in your marketing mix in this brand-new live workshop.
Here's What We'll Create Together
In this brand-new LIVE ONLINE workshop, you'll learn from Facebook Messenger marketing agency owner Chrys Tan how you can leverage the power of Facebook Messenger to grow your business... automatically and at scale.

Follow Chrys' easy 4-step system to

build and design your first Facebook Messenger chatbot without having to write a single line of code -

you will be guided step-by-step during the live workshop.
How to stay compliant with Facebook's ToS (Terms of Service) and ensure great user experience - without sacrificing the effectiveness of your Facebook Messenger marketing strategy.
Learn the fundamentals of Facebook Messenger bot marketing - how to grow your subscribers using various Facebook Messenger tools, how to engage and grow the know-like-and-trust factor, and how to move them down the funnel.
How to

leverage interactive tools

inside with a Facebook Messenger bot to grow, engage, and qualify leads.
The key elements of engaging bot conversations, and how to implement them (HINT: bot copy is NOT email marketing copy).
How to send messages that delivers open & click-through rates that are 800% better than email.
BONUS: Download our Facebook Messenger bot worksheet to craft "fill in the blank" bots that convert.

By the end of the live workshop, you will have created a Facebook Messenger marketing strategy and implemented a functioning and converting Facebook Messenger bot for your company's Facebook Business page.
What You'll Learn & Leverage
Chrys Tan's Tested & Proven Facebook Messenger Bot Marketing Strategies
From speaking at conferences such as Social Media Day Houston to creating bots for clients, Chrys knows what works and (more importantly) what doesn't. You're going to leverage all of her expertise to craft a Facebook Messenger bot that engages with your ideal customers and sells your product quickly and effectively.

Highly Effective Types Of Facebook Messenger Bots You Can Deploy for Your Business
Learn which Facebook Messenger bot will be most effective for your type of business during this interactive live workshop. You will be given recommendations based on your unique business goal.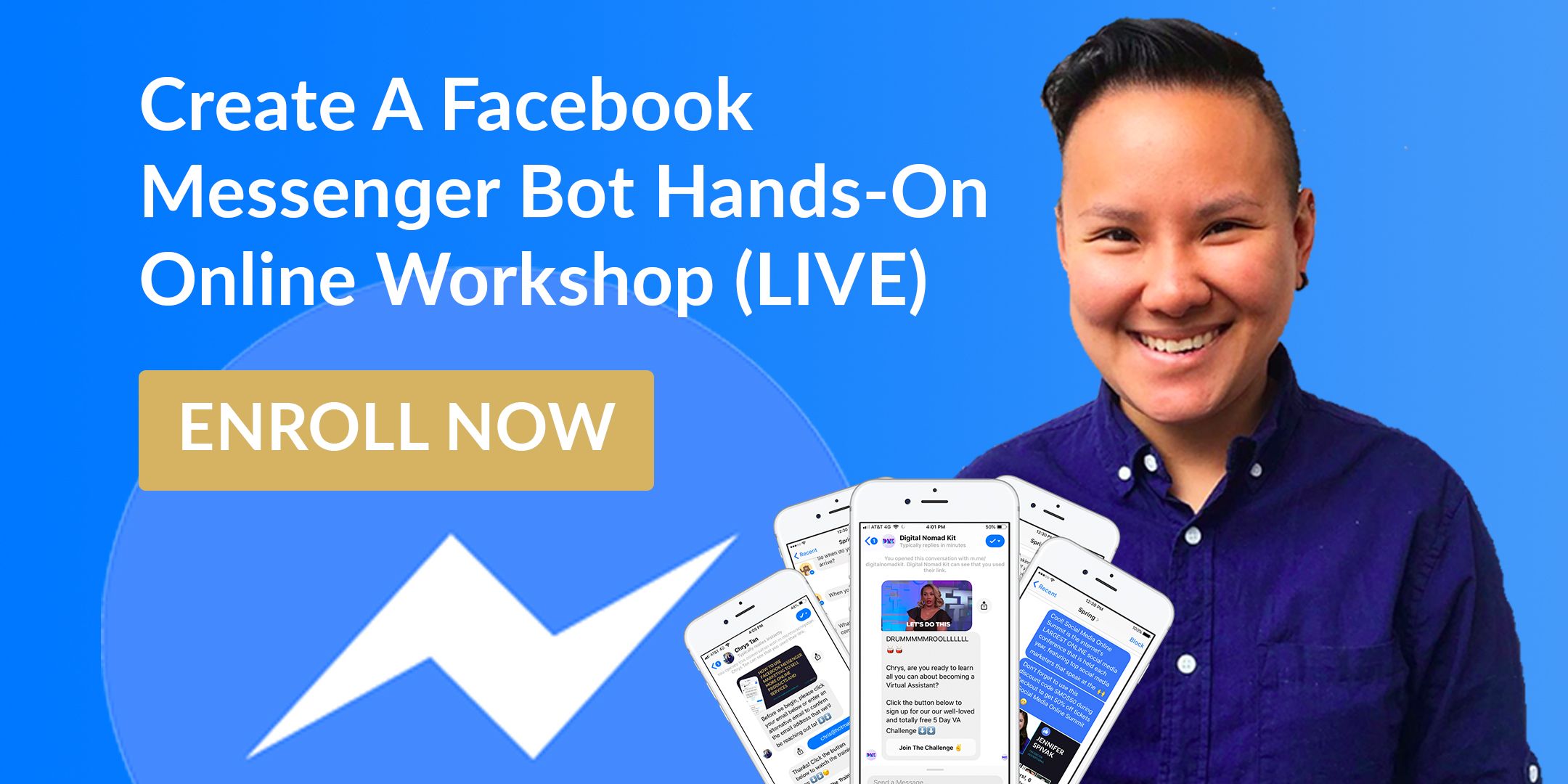 Your Trainer, Chrys Tan
Chrys Tan is the founder of Messenger marketing agency Chrys Media, and works with clients from United States to Switzerland. Chrys has been featured in many podcasts and has spoken on stages such as Social Media Day Houston.
Chrys Media Agency Website: https://www.chrysmedia.com/
FAQs
Who Is This Workshop For?
This workshop is for any business owner or marketer interested in learning how to leverage Facebook Messenger marketing to grow their business.

Do I Need To Know How To Code To Attend This Workshop?
Not at all. In fact, you DO NOT need to know any coding to create Facebook Messenger bots.

How Do I Access The Workshop?
This workshop is a live workshop ONLINE on August 10, 2019 from 3pm - 6pm EST. You will receive an email with the link to join the live workshop upon enrolling.

Will I Be Provided A Recording After The Workshop Has Ended?
Yes! The workshop will be recorded and a link will be sent to your email after the workshop has ended.

I've Signed Up But Suddenly Can't Make It. Can I Get A Refund?
We do not offer refunds. If you are no longer able to attend the live workshop, you will receive the workshop recording that you can access at any time.
Date and Time
Location
Refund Policy