Description
Journalists share some of the Facebook Live tools and strategies from The News-Press and Naples Daily News to help connect your nonprofit message and passion with your audience on Facebook.
Learn how to engage live with Facebook to connect with your audience and share your action and message. This hands-on learning event will provide you tools and tips on how to convert Facebook Live to build your brand and spur your audience to action.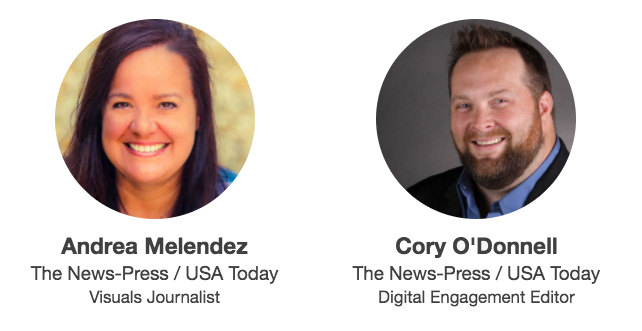 Evening Itinerary
5:30 set-up and new members
6:00 Dinner & introductions
6:30 Announcements
6:45 Adobe Spark Introduction
7:45 Q & A
8:00 The end and clean-up
"The Warm Up" ~ All first-time attendees will be greeted at 5:30 pm and will be introduced to our other members to help get the lay of the land, so to speak: What are Tech4Good, the agenda, and some of the routines we established throughout the meeting.
We invite all local nonprofit organizations to network, learn, test and explore new technologies, to exchange ideas and best practices. #nptech #t4gswfl #nptechclub #net2
Andrea Melendez, Visuals Journalist
The News-Press Media Group | USA TODAY Network
Andrea Melendez came to SWFL from Iowa. She has been an award-winning photographer and videographer for the company for almost 20 years. This is her second year on the News-Press photo staff. As a multimedia journalist, Andrea covers news, features, spot news, sports, and anything outdoors. She is creative, forward-thinking, and fresh with her daily work and really enjoys the SWFL has to offer. Previously she worked for 15 years at the Des Moines Register in Des Moines, Iowa, as well as 3 years at the Democrat and Chronicle in Rochester, NY. She has the passion, drive, and credibility to bring you fair news on many platforms. -Twitter: @acmelendez15 / Instagram: @acmelendez
Cory O'Donnell, Digital Engagement Editor
The News-Press Media Group | USA TODAY Network
As Digital Engagement Editor for The News-Press, Cory searches for new and innovative ways connecting our local news and journalism with the Southwest Florida community. He helps lead the news-press.com digital consumer experience team, specializing in web, mobile, apps, data analysis, and social media.
Cory also serves on The News-Press Editorial Board and chairs The News-Press Young Professionals Advisory Board. He previously served as a digital director, social media manager, and a commercial producer/editor.
Cory holds a Bachelor of Science degree in Broadcasting and Film with a minor in Theatre from the University of Central Missouri. Cory lives with his wife Kirsten in Cape Coral.
Twitter & Instagram: @CoryODonnell