Description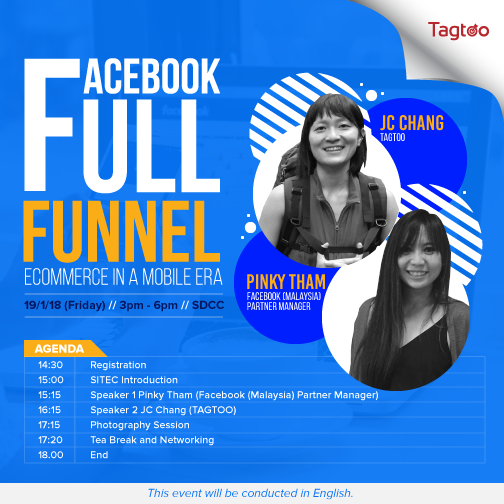 "Before you can start selling to your audience, you need to know who your ideal customer is, where they are, and what they will buy — so you can accurately target, tweak campaigns, and increase your return on investment in marketing or sales efforts." said Olivia, the Director of CRO at KlientBoost.
The truth is, most of your prospects on Facebook will not convert on your core/bottom-of-funnel offer. So, you need to build a funnel to move prospects from one point to another.
And you will have trouble setting up Facebook advertising campaigns that do that unless you know who your target audience is and their relationship with your product.
No funnel = no knowledge = no ads = no money being made
As you're already using Facebook for your business advertising, come and join our FREE CLASS to giving some thought to your Facebook funnel.
Agenda
14:30 - Registration
15:00 - SITEC Introduction
15:15 - Speaker 1 : Pinky Tham - Facebook (Malaysia) Partner Manager
16:15 - Speaker 2 : JC Chang-TAGTOO
17:15 - Photography Session
17:20 - Tea Break and Networking
18.00 - End
* This event will be conducted in English.
Speakers Profile:
Pinky Tham - Facebook (Malaysia) Partner Manager
Pinky Tham currently works on Malaysia small medium businesses at Facebook as a Partner Manager. Prior to Facebook, Pinky has over 9 years of experience in digital advertising and always has a passion to help small medium businesses to grow through different digital platforms. Throughout her years of experience, she has been on the client side and also worked in other digital platforms, including Google.
JC Chang-Optimization Vice Director, TAGTOO
JC Chang works in Tagtoo as optimization vice director helping E-commerce clients to optimize their digital marketing strategy to reach better ROAS and grow sales. She's worked with over hundred clients to analyze their data, allocate ad in cross platforms, like FB, Google and Yahoo. Besides, JC also the product manager of AdChief, which is the platform to help E-commerce to simply access FB DPA solution and Tagtoo big data to improve their AD performance.
About Tagtoo:
Tagtoo is a leading Dynamic Product Ads (DPA) platform in Asia and one of the members of Facebook Agency Partner Program.
We providing the best online ads experience for both advertisers and audience.
Tagtoo's solutions has assisted thousands of e-commerce ventures to get the most return on investment and, most importantly, the effectiveness is also proved by markets in Southeast Asia and Taiwan.

Website : www.tagtoo.com.tw