Description
Join us for the capstone event of LAAF 2018 featuring FACE Vocal Band, Vocalight, the winners of the Friday evening Scholastic Competition, and A Cappella Video Award presentations for select categories.
FACE Vocal Band
Face is an internationally acclaimed all-vocal rock band from Boulder, Colorado who have been captivating audiences for over a decade with their infectious energy punctuated by an endearing love of performance. "Blending modern popular tunes with complex harmonies, brilliant beat-box rhythms and superb singing…Face take their audience on a musical journey and it's fantastic fun." (FringeReview.co.uk)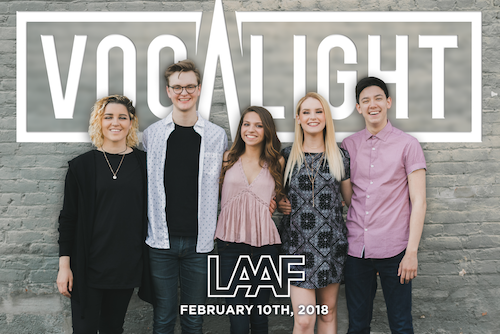 Vocalight, Dayton's first professional a cappella group, was founded in the summer of 2016. The vocal group is comprised of nationally lauded singers from Fairmont High School's, Eleventh Hour, and Centerville High School's ICHSA Champion, Forte. Members of the group have performed with Pentatonix and recorded on their self-titled original album. They have performed in New York City at Town Hall and the Beacon Theatre.