Este evento ha finalizado.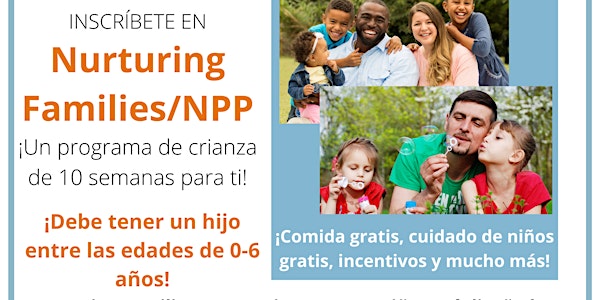 Face to Face Nurturing Parenting Program-Fort Worth- Spanish
¡Únete a nosotras!
Cuándo y dónde
Ubicación
Mental Health America of Greater Tarrant County 3136 West 4th Street Fort Worth, TX 76107
Acerca de este evento
¿Es usted un padre o cuidador que desea aprender más estrategias de crianza y crianza?
¡Inscríbase en Nurturing Families / NPP, un programa para padres de 10 semanas para usted!
Nurturing Families / NPP está diseñado para que asista cualquier miembro de la familia. El propósito de este grupo es aprender estrategias que pueden conducir a construir relaciones enriquecedoras con quienes lo rodean. Los participantes podrán conectarse con otros sobre los altibajos de la crianza de los niños, obtener nuevas estrategias de atención plena y recibir incentivos del programa.
¡Comida gratis, cuidado de niños gratis, incentivos y mucho más!