Description
We are excited to announce that we will be hosting the 2nd annual Face of Finance NYC (FoF NYC) conference in New York City on Friday, April 5, 2019
The conference will focus on the vital role of user experience in the success of financial systems. FoF NYC will provide practical sessions that give the attendee real world takeaways that they can apply directly to their work.


8:00-9:00 Registration/Continental Breakfast
9:00-9:15 Welcome and Introduction- Bentley User Experience Center
9:15-10:15 Keynote- Tomer Sharon, Managing Director, Head of User Research & Metrics at Goldman Sachs
11:00-12:00 Panel - "War Stories from the Front" with Karen Pascoe, SVP- Experience Design at MasterCard, & moderated by Mark Safire, Team Lead, User Experience Research at Bloomberg LP
12:00-12:30 Presentation topic TBD with Craig Mackintosh, Director, User Experience Research & Insights at American Express
1:30-2:30 Interactive Session led by Elizabeth Rosenzweig, Principal Consultant, Bentley User Experience Center: AI, UX and Financial Systems: Case Studies to Learn From
3:30-4:30 Panel - Careers with Bill Albert, Executive Director, Bentley User Experience Center Stacey Sarris, Lecturing Clinical Professor, User Experience at Pace University, Jen Cardello, VP of UX Research & Insights, Fidelity Investments
4:30-5:30 Keynote - Dan Egan, Director of Behavior Science and Investing at Betterment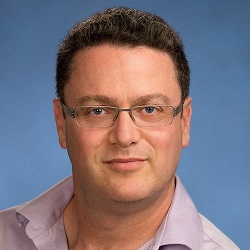 Tomer Sharon
Managing Director, Head of User Research & Metrics, Goldman Sachs
Tomer Sharon is a leading voice on the topics of design thinking, user experience, and lean research methodology. Tomer is Managing Director, Head of User Research & Metrics at Goldman Sachs. He is the author of the books, Validating Product Ideas (2016) and, It's Our Research (2012). Previously, Tomer was Head of UX at WeWork where he envisioned the concept of atomic research and led the development of Polaris, a system for mining research insights. Formerly Sr. User Experience Researcher at Google, Tomer was focusing on research for Google Search results for sports, TV & movies, weather, finance, music, books, and people. He has mentored organizations (large and small) on user research methodology, has given keynotes, and taught workshops in the 13 countries. Tomer holds a master's degree in Human Factors in Information Design from Bentley University in Waltham, Massachusetts.
View our featured speakers for FoF NYC by clicking here.
Brought to you by: