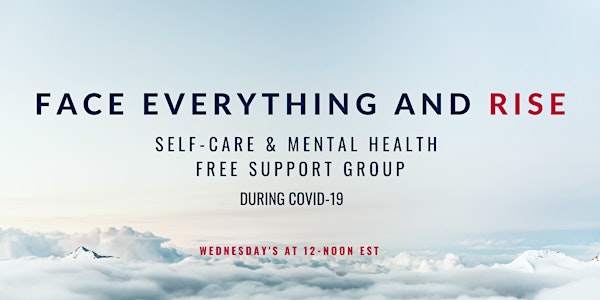 Face Everything and Rise - Free Weekly Support Group - Wed's at 12-Noon EST
As Americans, this is the first time we are experiencing anything of this caliber. Join us weekly for free support Wed's at 12-noon.
About this event
We all handle our stress and our emotions differently, and this is something we need to keep in mind as we practice social distancing. We are left at home with our loved ones, and this new normal has us together 24/7, which for many, could be an adjustment that takes time.
Stress, worry, and anxiety are common problems that many of us experience from time to time. However, as everyone knows, we are living in uncertain times right now as we face the Coronavirus Pandemic. As humans, during uncertain times, our stress, worry, and anxiety accelerate, and this pandemic has done just that for many. The world, as we knew it has changed drastically in the last few weeks. As Americans, this is the first time we are experiencing anything of this caliber. Given the news coverage, it is hard not to worry about what this all means for our loved ones and for us.
The unknown can be scary. Self-care and compassion are most important now more than ever. It is essential to take this time to do what makes you feel good. To be you while caring for your loved ones too.
Join us weekly on Wednesday's from 12-noon to 1 pm (EST) for a free support group via Zoom. Everyone is invited. These will be purely support sessions, there will not be much structure, and we will not be selling anything at the end. We may have some topics to help us get our conversations started, and that will be the only structure.
The idea is to have a support group that is a safe space where we can all be authentic as we continue to face the uncertain future of Covid-19.
Let's keep ourselves healthy - mind, body, and soul. I look forward to seeing you!
Blessings to all,
Vimari
For additional information you can email: info@beproductivecoaching.com
Learn more about me on Be Productive Coaching Website or LinkedIn Profile