Description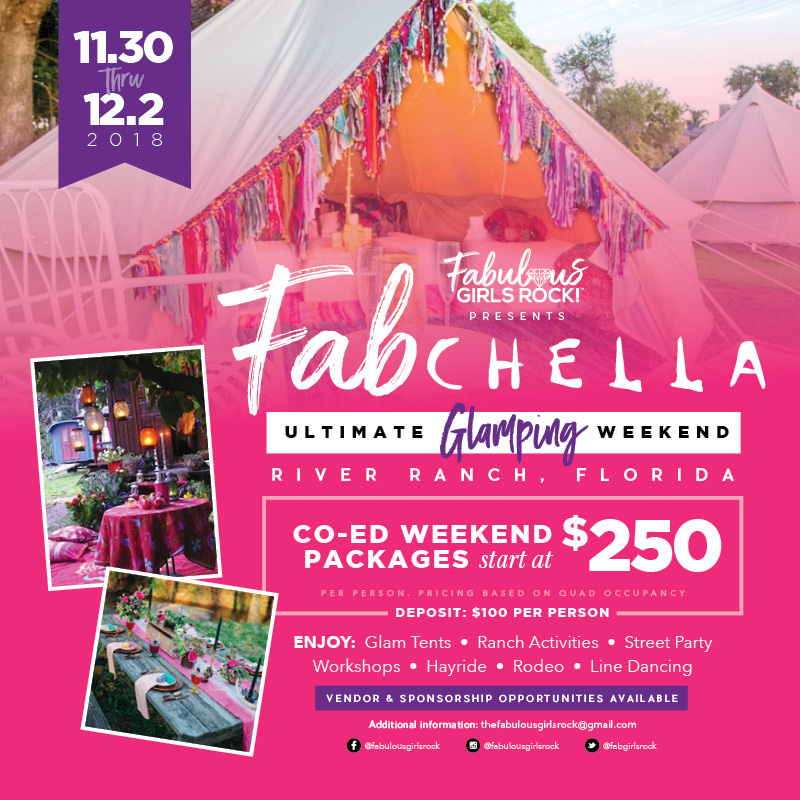 When Fabulous Girls Rock Meets Cochella!!!
Join Us for The Ultimate "FABCHELLA" GLAMPING Weekend!
Grab your Camping Gear, Champagne Flutes &

Rock your Heels & Boots !!

WE'RE CHECKING GLAMPING OFF OF YOUR TRAVEL LIST!
Enjoy the best of both worlds with GLAMPING (where nature meets luxury with a Fabulous Bohemian Twist) as we camp out under the stars surrounded by the Ranch's natural scenic beauty, while taking advantage of all the comforts of home.
Each glamping tent is set on a platform, and is fully furnished, including, 3 Beds, AC, Heat, Ceiling Fan, Mirowave, Electrical Outlets and Rocking Chairs for your convenience.
This is the perfect time to do something OUT of your comfort zone!! This is the perfect opportunity to disconnect yet connect in a positive enviroment to relax and rejuvenate during the Holidays and before kicking off the New Year!



THIS FABULOUS WEEKEND INCLUDES!



*GLAM ACCOMODATIONS/ACTIVITIES*
*(4) People per Tent (Each Tent includes (1) King Bed & (2) Twin Beds
* Glamping Welcome Amenity
* Complimentary Coffee & Breakfast Bites Delivered Daily
* FGR -Meet & Greet Social - Refreshments Provided
* FGR- Early Morning Journling & Meditation Workshop- Included
* FGR - Campfire & Conversations - Refreshments Provided
* FGR - Vision Board Event- Included
* Welcome Country Line Dancing Soiree
*Access to Ranch Activities
*Meals are on Own (Special Events/Meals available at additional cost)

* Street Party/Line Dancing - (Free Access)
* FGR Private Hayride & Dinner (additional)
* VIP GLAM ACCESS *
*Includes All Amenities Above
*VIP Welcome Amenity
*Complimentary Access to all Events Onsite Hosted by FGR
*Entrance to the VIP Reception (Complimentary)
*Entrance to to Hayride & Dinner (Complimentary)
ACTIVITIES ON SITE:
*Airboat Rides
*Horseback Riding
*Rodeo
*Fishing
*Game of Horseshoes
*Petting Farm
*Rock Climbing
*Tennis
*Bungee Jumper
*Mechanical Bull
*Miniature Golf
*Nightly Campfires
*Zip Lining & Much More
***NOTE: There is an additional cost for activities



BOOK TODAY!! SPACE IS LIMITED!


***Early Bird Pricing***
Weekend Package $250.00 Per Person/ Based off of (4) Guests Per Tent
VIP Weekend Package $350.00 Per Person/ Based off of (4) Guests Per Tent
* NOTE If you have less than 4 Guests you can share with assigned tent mates or you can pay the full price based off of 4 guests in the tent.


PAYMENTS ARE NON-REFUNDABLE
DEPOSIT IS $100.00 - NON-REFUNDABLE. (PER GUESTS)
VIP DEPOSITS IS $200.00 - NON REFUNDABLE (PER GUEST)
The final balance will be emailed to you for final payment.
Other payment options: $CashApp the Deposit and Final Payment. Email (shenetramack@yahoo.com).
*FULL PAYMENT DUE BY OCTOBER 1, 2018*
(NOTE: Additional Fees Apply for Certain Activities)


TENT-MATES:
You are required to provide your tentmates names upon reserving. DEPOSITS for all guests per tent must be paid at the time of booking. Tents are confirmed based off of 4 guests.
If you have less than 4 people, you may pay the full amount of the tent (1-3 guests) or you may be placed on a list for shared tentmates. In this case you will be assiged to share in a tent with other guests assigned upon availablity.
*SPONSORSHIP & VENDOR INFORMATION *
Rock your Brand!! Become a Sponsor Or a Vendor. Email: thefabulousgirslrock@gmail.com for details.
HELPFUL INFORMATION:
Pricing is based on per person/per tent basis. Each Tent sleeps 4 guests. If you have LESS than 4 guests then the price increases.
VENUE LOCATION: The Venue is located about 1 hour away from Orlando in Central Florida.
RESTROOMS: Each Tent will have its own assigned PRIVATE Restroom.
FOOD & BEVERAGE: Each Tent comes with a Propane Grill. You may bring food to grill. Kindly note you will need to provide coolers and ice. Each tent has a "mini" fridge.
Tent-Mates are assigned in groups of (2). Please book at the same time with you tent-mates to guarantee placement in the same tent.
*** DEPOSITS & TICKETS ARE NON REFUNDABLE **
ADDITIONAL QUESTIONS OR DETAILS:
Email: thefabulousgirlsroc@gmailcom


STAY CONNECTED:
Follow us on Facebook, Instagram and Twitter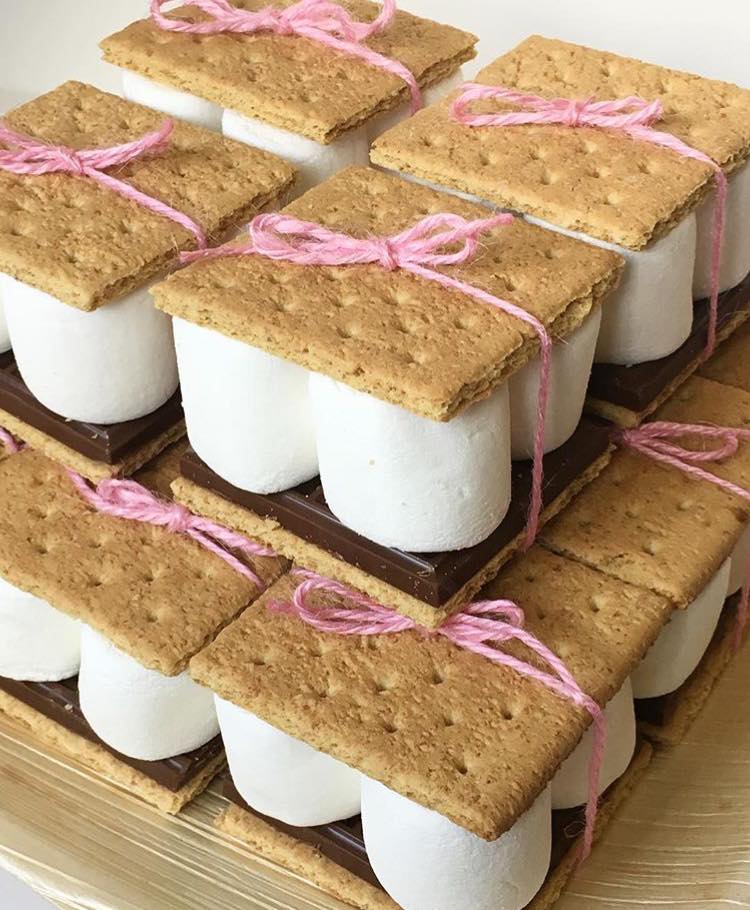 Are you ready for FABCHELLA?