Description
FabOverFifty hosts a Summer Soiree at Haven Spa, on Tuesday August 6th from 6 p.m. to 8 p.m.
Connect and mingle with other fun women – the readers of FabOverFifty! – while tasting elegant Tatratea cocktails, hors d'oeuvres and learn about a brand new type of age-defying, collagen-building treatment called the Circ Cell Transdermal Infusion Facial.
One lucky guest in attendance will receive an Island Bliss Pedicure at Haven Spa.
This event is complimentary and no purchase is required, simply RSVP by selecting COMPLIMENTARY TICKET above.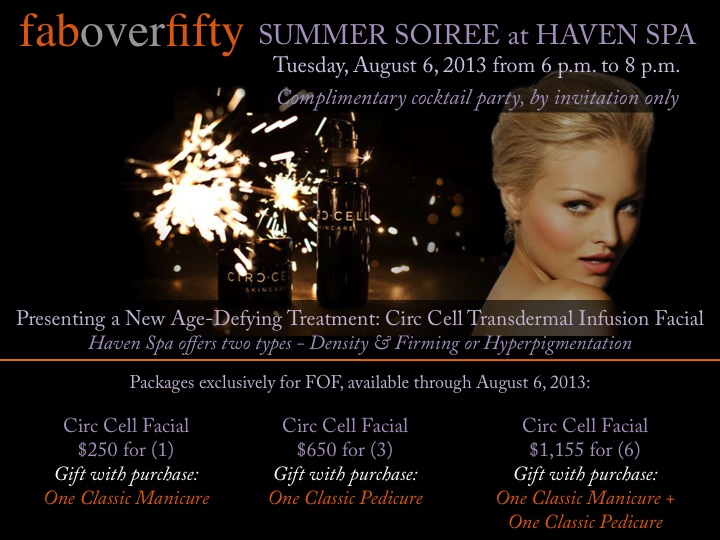 Special gifts with purchase are available (these are optional purchases, NOT required to attend the event. Any FOF guest may RSVP for the event for free.) - please read details below:
Circ Cell is a new therapy designed to improve the visible signs of aging in women over 40. It delivers unprecedented results, leaving skin hydrated, plump and radiant. The treatment will be shown and discussed at the party, but you are welcome to learn more about it at www.CircCell.com.
Summer Soiree Special Offers for FabOverFifty:
Gift #1: Classic Manicure (worth $20) with purchase of one (1) Circ Cell Facial for $250.
Gift #2: Classic Pedicure (worth $38) with purchase of three (3) Circ Cell Facials for $650.
Gift #3: Classic Manicure & Classic Pedicure (worth $58) with six (6) Circ Cell Facials for $1,155.
Please note:
Special offers must be purchased either at the Summer Soiree, or before August 6th, 2013 in order to receive the gift with purchase.

Guests must be present at the event on August 6th in order to receive their gifts with purchase. (However, the actual Circ Cell facials are available for use immediately upon purchase of the above tickets, and may be used any time before December 31, 2013).

No spa services will be administered during the event (guests may use their free gift cards beginning August 7th, 2013 through December 31, 2013).

Spa booking procedures apply.
Call Haven Spa with questions at 212.343.3515.
We look forward to seeing you at the Summer Soiree!
xoxo,
FabOverFifty & Haven Spa
Special thanks to Tatratea, for graciously serving the event. We look forward to enjoying the award-winning cocktails! For delicious summer cocktail recipes, which will be served at this event, visit: www.tatrateas.com.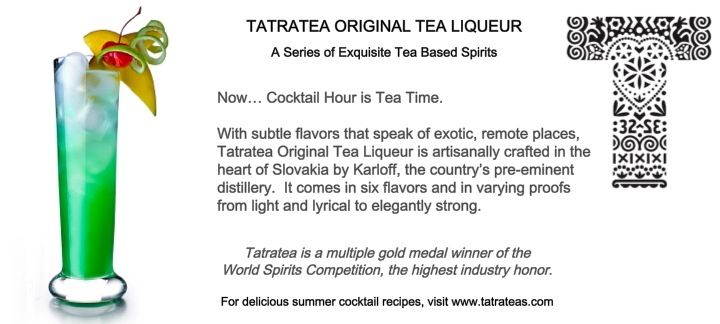 Organizer of FabOverFifty Summer Soiree at Haven Spa
Haven Spa in the heart of Soho, Haven Spa is a warm and relaxing full-service urban retreat frequented by celebrities and Manhattan's elite for over 30 years. Haven Spa offers a comprehensive menu of performance-driven facial therapies, body therapies, massages, waxing, manicures, pedicures, spa packages, and mini retreats. It is also an exclusive spa offering the new Circ Cell Facials, as featured in Vogue magazine. Haven is consistently revered for its services in local, regional and national media, including 2013 Best Of NYC Waxing, 2013 Best of NYC Mani/Pedi, and 2013 Best Massage by CitySearch and Allure magazine. HavenSoho.com / 212.343.3515.