Description
SATURDAY JUNE 1st
EDDIEO-O LEGENDARY BIRTHDAY GALA
w/ FABOLOUS LIVE
HOSTED BY 50 Cent
BRANSON COGNAC RELEASE PARTY
MUSIC BY WALSHY FIRE OF MAJOR LAZOR & DJ HOT ROD
MORE ARTIST (S) TO BE ANNOUNCED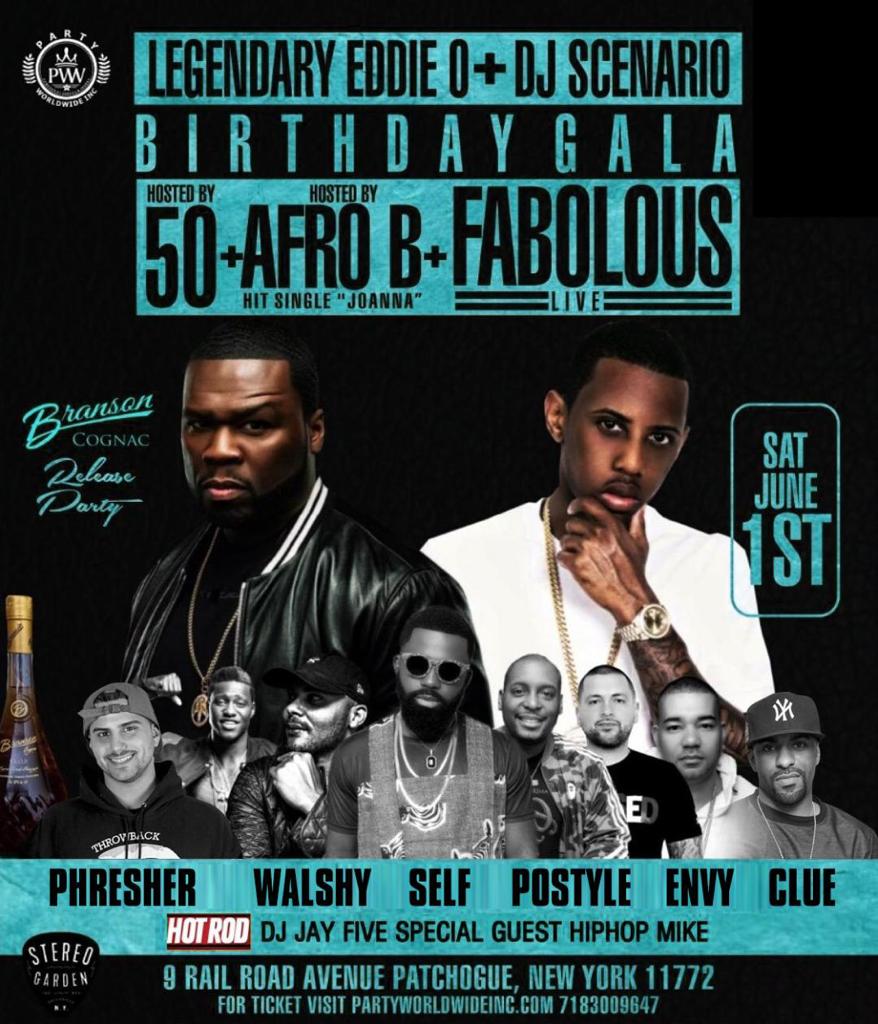 ---
▪ TABLE SERVICE ▪
JUST A LITTLE BIT PACKAGE $500 : 1 BOTTLE GREY GOOSE OR BRANSON COGNAC, 1 house champagne, 4 FREE PEOPLE
LIGHT IT UP PACKAGE $750: 2 PREMIUM BOTTLES, 1 house champagne, 5 FREE GUESTS
YOU BE KILLIN EM PACKAGE $1100: 3 PREMIUM BOTTLES, 1 house champagne, 6 GUESTS FREE
THROW IT IN THE BAG PACKAGE $1500: 5 PREMIUM BOTTLES, 1 house champagne, 8 GUESTS FREE
P.I.M.P PACKAGE $3500: PREMIUM SEATING NEAR 50 cent, 8 BOTTLES OF CHOICE, 1 House CHAMPAGNE, 10 GUESTS FREE
CHAMPAGNE PACKAGE : $2000: 3 BOTTLES OF LE CHEMIN DU ROI (50 cent Champagne), 8 GUESTS
$100 TABLE DEPOSIT TO CONFIRM THE TABLE, THE REMAINDER IS DUE UPON ARRIVAL.
---
21+ w valid ID // All sales are final and non refundable
---
About the venue: Stereo Garden is a unique multi-purpose venue located in the vibrant Village of Patchogue, New York. Originally built as the Patchogue Roller Rink in the 1940's, this historic building offers over 20,000 square feet of open floor, column-free space with exposed wood rafters and curved high ceilings. Live music acts perform with state-of-the-art professional lighting and audio systems, while the audience experiences the show from multiple levels--all with clear sight lines toward the stage.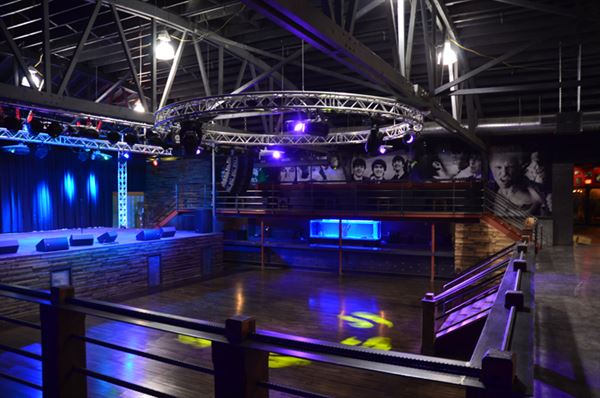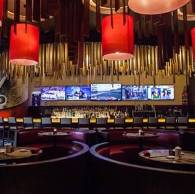 ---
About the artists:
▪ Fabolous is an American rapper from Brooklyn, New York City ... his career began when he was a senior in high school and ended up rapping live on American record producer and music executive DJ Clue's radio show, then on Hot 97... Fabolous' first release, Ghetto Fabolous (2001), spawned the hit singles "Can't Deny It" and "Young'n (Holla Back)", which led him to prominence. His second release was 2003's Street Dreams, which was supported by two Top 10 singles "Can't Let You Go" and "Into You"...he has released a string of hit singles, such as "Trade It All, Pt. 2", "Breathe", "Make Me Better", "Baby Don't Go", "Throw It in the Bag" and "You Be Killin' Em". He is also known for appearing on several R&B singles, including "Superwoman Pt. II" by Lil' Mo, "Dip It Low" by Christina Milian, "Shawty Is a 10" by The-Dream, "Addiction" by Ryan Leslie, "I Can't Hear the Music" by Brutha, "She Got Her Own" by Jamie Foxx, "Say Aah" by Trey Songz, and much more.
▪"The rapper known as 50 Cent is living proof that hip-hop is as much a lifestyle as it is a type of music. His first single, "Wanksta," appeared on the soundtrack of the film 8 Mile. In 2003, 50 Cent's debut album Get Rich or Die Tryin', topped the charts and broke sales records....He grew up on the streets of New York, survived being shot at nine times, and used those experiences to fuel his songs. As a result, critics noted that his music had a gritty edge, and they predicted that 50 Cent would be the next hip-hop heavyweight." NotableBiographies

▪ Walshy Fire is a DJ, MC and record producer who is better known as part of the dancehall reggae-influenced group Major Lazer alongside fellow DJs Jillionaireand Diplo. Walshy Fire toured with the Black Chiney sound system beginning in 2004. Black Chiney is cited as a significant influence on the evolution of Major Lazer with its mash ups that blend hip hop or R&B rhythms with reggae & R&B artist vocal tracks and its representation of the Jamaican sound system. The subsequent mix tapes that the Black Chiney collective of DJ's, engineers and MC's would develop were the training ground for Walshy to become a remix producer."
---