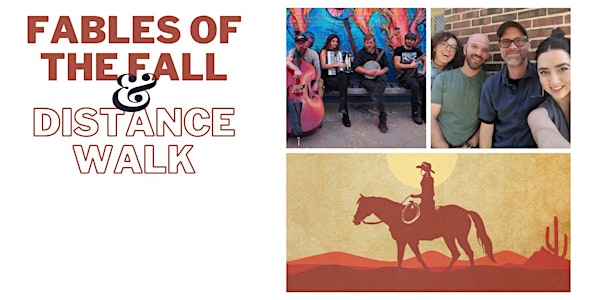 Fables of the Fall & Distance Walk
Swallow Hill excitedly welcomes Fables of the Fall and Distance Walk to our Tuft Theatre stage!
When and where
Location
Swallow Hill Music - Tuft Theatre 71 East Yale Ave Denver, CO 80210
Performers
Distance Walk
Fables of the Fall
About this event
Fables of the Fall
Fables of the Fall is a Denver-based end-timey alternative folk quintet. Combining elements of folk-punk, chamber music, metal and more, these Denver-based troubadours of the apocalypse bring a fresh take on folk music. Starting with their atypical instrumentation and layered vocals, and beholden to no genre, they create their heavy folk sound, reminiscent at times of Devotchka, Gogol Bordello or Danny Elfman with sprinkles of pirate shanties and Colorado bluegrass.
In 2017, Schwa Michel (banjo/guitar) teamed up with Derrick McGuire (mandolin/bouzouki/guitar) in search of a darker heavier folk sound. Coming from roots in punk rock, they joined forces with Lindsey Gardner (piano/accordion) who helped add classical elements to the mix. With the additions of Geoff Robinson (upright bass) and Ellen Rice (cello), the dark and stormy apocalypse-folk of Fables of the Fall is complete, coming soon to a ghost town or haunted mansion near you.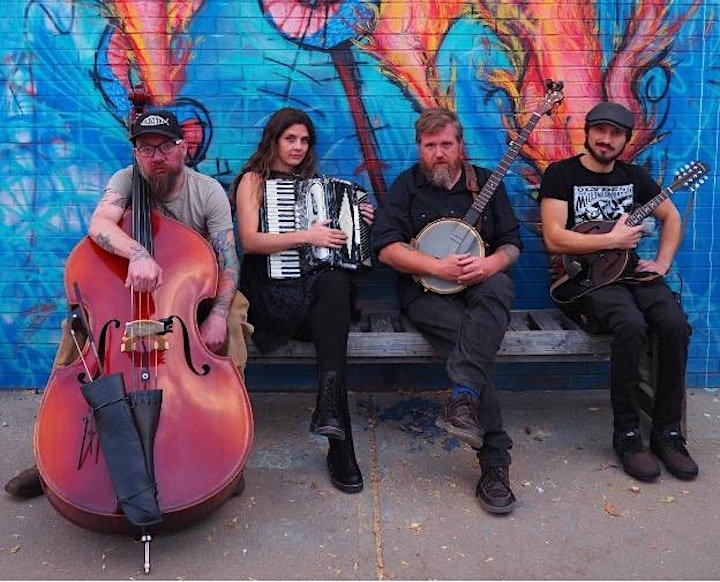 Distance Walk
Distance Walk's mix of folk, post-punk, old-time and baroque music creates a melodic sound that is at turns ethereal and down to earth.
The band features Olivia Shaw on fiddle, Niki Tredinnick (The Dollhouse Thieves) on vocals, clarinets, and percussion, Seth Fine on guitar, and Barry Osborne on vocals and clawhammer banjo.
Friends before they played music together, the band came together in 2019 for a one off show at Swallow Hill Music. It went so well they kept it going and their sound rapidly evolved into something that draws on the strengths of their unique chemistry and surprising instrumentation.
On March 7, 2020 the band played Mutiny Information Cafe and the enthusiastic and intrigued response from the audience confirmed they were onto something. A week later Denver shut down due to COVID-19 restrictions, but the band kept collaborating. By June they had five songs to take into the studio, which they recorded over the summer at The Mousetrap Recording Studio in Denver. The result is Distance Walk, their self-titled debut EP., out now on Recessive Goth Records.
Despite COVID-related closures, the band remained active in 2020, recording covers of beloved 1980s songs that contained clues for that summer's city-wide History Colorado scavenger hunt. The band's single "Come A Little Bug" was also chosen for inclusion in TIMESTAMP, "a collection of music made during times of isolation and civil unrest in 2020" from Free People Records.