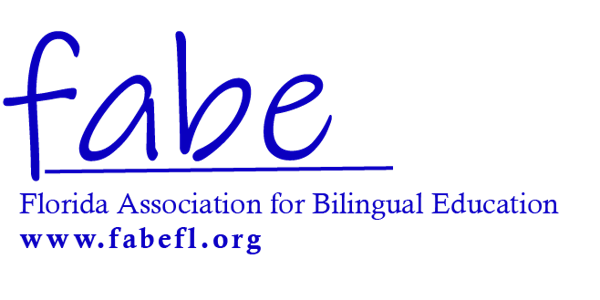 FABE-Florida Association for Bilingual Education Winter 2021 Event
Join us for FABE conference (Winter 2021) for updates on Florida's bilingual education, keynote speakers, and networking. Free to members.
About this event
Join us for keynote speakers, building Florida's dual language and bilingual education network, and giveaways. We will also announce the new FABE 2021-2022 Board Members. Free to current members or join now!
FIRST ANNUAL ONLINE CONFERENCE
FRIDAY, JANUARY 30, 2021
9:00 am – 12:15 pm
AGENDA
I. Opening and Logistics (Dr. Maria Coady, Past President) (9:05-9:10)
II. Greetings and Welcome (Dr. Edwidge Bryant, President) (9:10-9:25)
III. Keynote Speaker: "Translanguaging: Pedagogies and Possibilities in Florida's Classrooms" (Dr. Mark Pacheco, University of Florida) (9:30-10:15)
(short break)
IV. "Perseverance, Positivity, Performance and Patience - Bilingual Education Expanding in Florida" (Ms. Geri Chaffee, Director, Dreamers Academy) (10:30-10:55)
V. "Elevating Bilingual Education In Florida: Lessons From The Field" (Ms. Susanne Peña) (11:00-11:25)
VI. "Looking to the Future Post-Pandemic—Challenges, Opportunities and Resources" (Giselle Lundy-Ponce, Colorín Colorado, American Federation of Teachers) (11:30-11:55)
VII. Business and Announcements of New Board for 2021-2022 (Edwidge Bryant, Drew Long, Susanne Peña) (12:00-12:15 pm)
BIOS OF SPEAKERS (in order of presentation)
Mark Pacheco, Ph.D.
University of Florida
Mark Pacheco is an Assistant Professor of ESOL and Bilingual Education at the University of Florida. His research interests include the language and literacy practices of emergent bilingual students (EBs) and how teachers can support these practices. He is currently part of three research projects that investigate 1) how EBs strategically translate texts to support their literacy, 2) how EBs participate in biology classrooms, and 3) how multimodal composition supports EBs' multilingualism and learning.
Geri Chaffee, M.Ed.
National Radio Host of Por Nuestros Niños
President, PDO.org – Pedagogy, Diversity, Optimization
https://twitter.com/BoricuaBilingue
Geri Chaffee is president of PDO.org where she facilitates the delivery of resources and technical assistance to school districts with rapidly growing Hispanic, SLIFE, and ELL populations. She is also the host of the national weekly radio program and podcast "Por Nuestros Niños" which brings Spanish-speaking parents and families information, resources and tools to help support their children's education.
Most recently Geri founded Dreamers Academy, a dual language Spanish immersion public charter school opening in Sarasota August 2021. She is also a founding member of the League of United Latin American Citizens (LULAC Council 7261). She currently serves on Manatee School District's Strategic Plan Community Task Force and the Diversity and Inclusion Committee, Sarasota School District's Cultural Proficiency Committee and Manasota Protect Our Public Schools. She is also a Cabinet Member of Manatee Elementary Community Partnership School.
"The evidence is clear: learning a second language enhances children's cognitive ability which in turn enables them to excel academically in all subjects. It is up to us to educate the traditional systems so that the benefits of bilingualism start in early learning and continue through K-12."
Geri Chaffee Related Websites
http://www.pdo.org
http://www.dreamersacademy.org
Susanne Peña
SMP Education Consulting
Susanne Peña has been an educator in the K-20 setting for over 16 years. She started her career as a teacher in Title I schools in the New York City Department of Education. She has served as District Coordinator for ESL, Bilingual Program & World Languages for the Amityville Union Free School District. In addition to monitoring the implementation of regulations, she supervised and assisted teachers (grades K-12) to align curriculum and instruction to meet the rigor of the CCLS (Common Core Learning Standards) and Bilingual Common Core Language Arts Progressions. She also served as an instructional coach, supervisor, and evaluator of bilingual and ENL (English as a New Language) teachers at Amityville School District and was the Dual Language Program Coordinator (PK through 8th grade) at PS/IS 180M in Harlem, NY. Ms. Peña has also held the position of Adjunct Instructor at Brooklyn College for Bilingual and Multicultural Education. She has also held the position of Director/Project Manager for the Dual Language STEPS (Support Through Technology Enhanced Programs and Strategies) Grant at the University of Central Florida.
Ms. Peña is the lead education consultant at SMP Education Consulting, LLC. She is currently pursuing her doctorate in Adult Education with a concentration in Social Justice at the Kansas State University.
Giselle Lundy-Ponce
Educational Issues Department
American Federation of Teachers
Giselle Lundy-Ponce has been working in the field of PreK-12 education policy, research and advocacy for the last twenty-eight years. In her current role with the American Federation of Teachers she manages the educational rights and social justice initiatives and policy team and leads the AFT's policy and professional development portfolio on English language learners, Native American students and Latino student achievement. In 2004 she initiated the partnership with PBS Station WETA to develop Colorín Colorado, which has become the most widely used online source for educators and families of English language learners in the U.S. Other areas of policy expertise include teacher evaluation and academic standards. Prior to her work at the AFT she developed and led programs in the fields of migrant farmworker education, youth development, teacher professional development, and community-school collaborations in Washington, DC and San Francisco, CA.