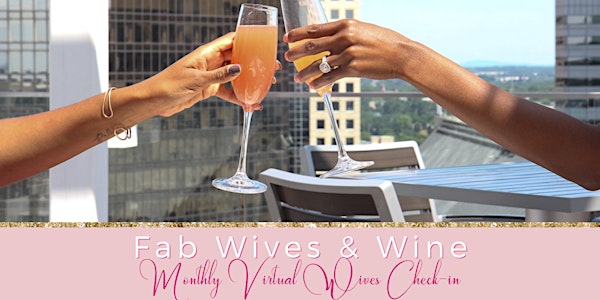 Fab Wives & Wine Monthly Virtual Meetup
Join us every 2nd Wednesday of the month for our virtual Fab Wives & Wine!
About this event
Grab your wine, cocktail, water or tea and check-in to mix and mingle with wives and wives-to-be from the comfort of your home every second Wednesday of the month at 8:30pm et!
Join us to connect with the Fab Wives tribe in a judgment-free environment for laughter and lively chats about fun hot topics & marriage-related topics.
Feel free to jump on and off the meetup as your schedule permits. Here is a tentative overview of our monthly schedule:
8:30 pm - Reality T.V. & Hot Topics Chat
9:00 pm - Real Marriage, Real Talk (Marriage Topic Discussion)
9:30 pm - Fab Wives Wellness Check
9:45 pm - Ask Fab Wives Letter