Description
About the Fab Lab: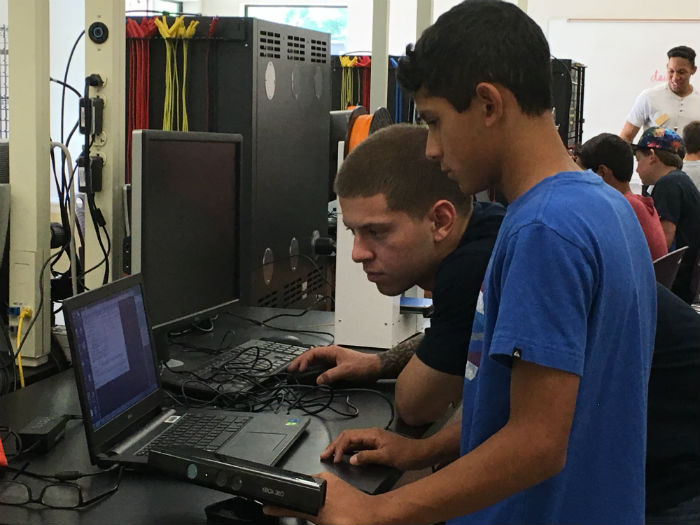 The Fab Lab at CSUB is part of the worldwide network of Fab Labs, and the only one within a 100 mile radius of Bakersfield! The Fab Lab gives access to state-of-the-art technology that has traditionally never been available for public use. Touted as a place where you can build (almost) anything, the Fab Lab is a creative space for you to explore your imagination to its fullest!
Check out the camps that will be available!
Introduction to Digital Fabrication
Ages 10 and up Cost: $120
Dates: June 3 – 6, 1:00 – 5:00pm
June 24 – 27, 8am- 12:00pm
June 24 – 27, 1:00 – 5:00pm
July 29 – Aug 1, 1:00 – 5:00pm
Learn about digital fabrication and rapid prototyping! Participants will learn lab safety and how to use the vinyl cutters, laser cutters, 3D printers, and the CNC routers to design and make almost anything!
Build your Own Robot and Fuel Cell
Ages 12 and up Cost: $300
Dates: June 3 – 6, 8am – 12:00pm
Learn about breadboarding (construction base for prototyping electronics), Arduino programming, soldering, and clean energy by building your own robot and a hydrogen PEM fuel cell.
Quadcopters!
Ages 12 and up Cost: $275
Dates: June 10 – 13, 8am-12:00pm
June 10 – 13, 1:00-5:00pm
July 15 – 18, 8am-12:00pm
Tear apart a pre-built quadcopter then reconstruct one of your own design. Participants will learn design work, laser cutting, and soldering.
Predator! Thermal Imaging Camera
Ages 12 and up Cost: $350
Dates: June 17 – 20, 8am-12:00pm
Build a camera that sees heat instead of light, like the Predator! Participants learn soldering, Arduino programming, and 3D printing.
Be Like Batman: Echolocation Device
Ages 12 and up Cost: $250
Dates: July 8- 11 8am-12:00pm
Aug 5 – 8 8am-12:00pm
Learn how to make an echolocation device, like an ultrasonic measuring tape, using an ultrasonic speaker/mic element to measure distance. Participants learn 3D printing, Arduino programming, and soldering.
*each camp is limited to 10 spaces per session. If all are sold out, you can email stem@csub.edu to be placed on the waiting list - Thank you!
Refunds: campers can receive refunds up to 7 days before camp start date.

FAQ:
What isn't allowed in the Fab Lab?
While in the Fab Lab, students are expected to wear closed-toe shoes, not have on dangling jewelry, and all long hair must be tied back. These rules are in place to minimize potential risks while working with the machines.
No food or drink permitted.
How do I get to the Fab Lab?
Please enter the CSU Bakersfield campus from the Camino Media entrance (across from the Marketplace) and park at the top of parking lot H (left side parking lot).
Where on campus is the Fab Lab located?
The Fab Lab is located in the Engineering Complex (see #83 on the ***campus map***). We will be asking you to sign your child in and out for safety reasons. If you choose to park your vehicle, please be aware that University Police enforces parking permit requirements during the summer months. Please consider buying a day pass or using the parking meters available at the top of Lot H to avoid getting a parking ticket.
For more information: www.csub.edu/fablab